Madame Xanadu #8
By Andy Frisk
March 5, 2009 - 09:34
DC Comics
Writer(s): Matt Wagner
Penciller(s): Amy Reader Hadley
Inker(s): Richard Friend
Colourist(s): Guy Major
Letterer(s): Jared K. Fletcher
$2.99 US
Madame Xanadu crosses mystical incantations with The Phantom Stranger, yet again, as she tries to stop The Ripper from killing even more of late 19th Century London's working girls. Every time she seems to be getting close to discovering The Ripper's identity, The Phantom Stranger confounds her, even at one point blocking her view of The Ripper about to commit his final murder with a giant sized version of himself shrouded in a cloak. As seen in Xanadu's last issue, The Stranger continually stops Xanadu from stopping The Ripper, giving her no more information to explain his motives beyond cryptic sayings and musings that really reveal nothing. Not until the end of this issue does Xanadu get the explanation, and it's a very, very, good one involving The Ripper's last victim, Mary Kelly, and a certain yellow hued, rhyming demon. It would be a huge injustice to all who need to pick up this series, and you do, to reveal this explanation more than the hint dropped above.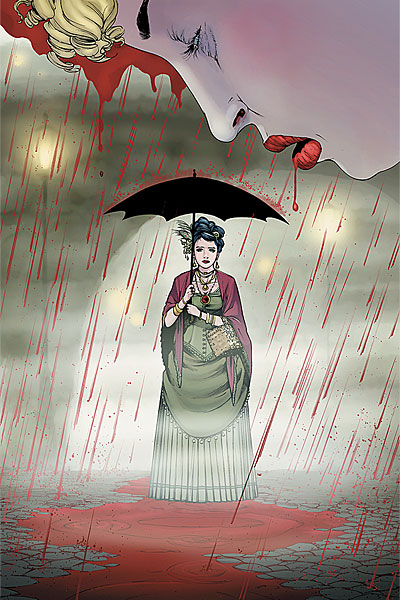 Hadley's pencils continue to be astounding in their detail and realism helping to ground a series about a hundreds of years old sprite and a mystical stranger in reality through her masterful renderings of accurate period dress and architecture. Her pencils also convey great emotion as well which stands out greatly against the period dress and surroundings through her also masterful renderings of facial expression. All these elements come together to create a period piece that is both at once grounded in an accurately recreated dead age and alive with crackling emotion.
A couple of noteworthy aspects of Xanadu's adventures, particularly in this issue are, one: she firmly appears to be seated in the DC Universe proper with mention of our aforementioned demon, recently appearing in Reign in Hell, a DC Universe proper series, and two: since this is the case, it marks one of the first times in recent memory that DC's Vertigo line has crossed over with DC's Universe proper line. This crossover used to be the case in previous Vertigo series Saga of The Swamp Thing and Sandman. Maybe we'll get to see some more of DC's mystical characters in Vertigo incarnations? The Demon and Dr. Fate both would make great Vertigo series since Vertigo is a line for mature readers, and darker tales can be told about them and their adventures. Anybody out there at DC listening…? Overall, whether or not Madame Xanadu reaches the literary heights of Swamp Thing or Sandman remains to be seen, but so far it's proven be off to a good start at attempting this goal.

Rating: 10/10
Related Articles:
Madame Xanadu and Chrissie Zullo
Madame Xanadu #19
Madame Xanadu #16
Madame Xanadu #11
Madame Xanadu #10
Madame Xanadu #8
Madame Xanadu #9
Madame Xanadu #8
Madame Xanadu #1
Madame Xanadu #1