Madame Xanadu #11
By Andy Frisk
May 31, 2009 - 14:57
DC Comics
Writer(s): Matt Wagner
Penciller(s): Michael Wm. Kaluta
Inker(s): Michael Wm. Kaluta
Colourist(s): Dave Stewart
Letterer(s): Jared K. Fletcher
Cover Artist(s): Kaluta and Stewart
$2.99 US
Sandman Mystery Theatre was a Vertigo classic that re-invented the Golden Age Sandman, and told some terrific stories for mature readers that were better than most pulp fiction tales ever written. The series met an untimely end and many readers, including myself, have longed for his return. It did not need to be in the pages of a new Vertigo classic in the making. Sandman Mystery Theatre was a unique and singularly great series just as Madame Xanadu was shaping up to be, so why derail Madame Xanadu and recapitulate Sandman Mystery Theatre? If there's a market for more of Wesley Dodds' adventures, then re-launch the series, but don't turn an already great series into a copy of a defunct great series.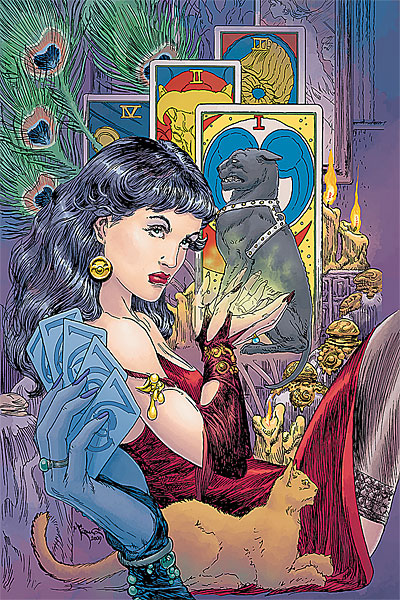 Kaluta's art.
Before we go any further let's look at the massive changes that take place in this issue, and exactly how these changes turn Madame Xanadu into Sandman Mystery Theatre. Madam Xanadu's adventures have stalled in the 1930's and 40's with her setting up shop to help people who come to her with problems involving the criminal implications of paranormal or occult events and crimes. The Sandman's adventures took place in the 1930's and 40's, and he often went into action to help those who had problems with or involving the criminal implications of events and crimes. Period dress, landscape, automobiles, etc of the time period now play a major role in the feel of Madame Xanadu. Period dress, landscape, automobiles, etc of the time period played a major role in the feel of Sandman Mystery Theatre. Madame Xanadu is revealed in this issue to be bi-sexual, thus bringing up the theme of homosexuality, which isn't a big deal, but was often a theme in Sandman Mystery Theatre back when it was "edgy" or progressive to have gay or lesbian characters in mainstream comics. Kaluta's artistic style is reminiscent of Guy Davis' style. Davis being the artist, for nearly every issue of Sandman Mystery Theatre, who defined that book's unique look, much like Amy Reeder Hadley was defining Madame Xanadu until her departure. Now with Kaluta, Madame Xanadu looks nearly identical to Sandman Mystery Theatre. Finally, Matt Wagner wrote Sandman Mystery Theatre and writes Madame Xanadu.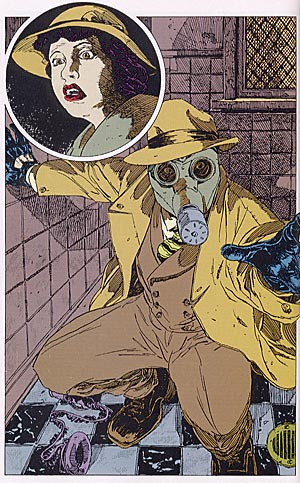 Davis' art.
That isn't a bad thing. On the contrary, Matt Wagner is a very talented and much admired writer and his stint on Madame Xanadu has been spectacular thus far, but do we really need to see him repeat himself by revisiting territory that he has already covered, quite well, in the past? While the promise of more Wesley Dodds and Dian Belmont does hold some appeal, wouldn't it be better to just resurrect them in a new Sandman Mystery Theatre series instead of bringing them back into a series that was unique and standing very well on its own? Madame Xanadu was its own fresh, lively and unique series through its first 10 issues. Sticking with the series for the next few issues might prove worthwhile for old Sandman Mystery Theatre fans, but for fans of Madame Xanadu, as she was conceived of until issue 11, it might be time to jump ship.
Rating: 5/10
Related Articles:
Madame Xanadu and Chrissie Zullo
Madame Xanadu #19
Madame Xanadu #16
Madame Xanadu #11
Madame Xanadu #10
Madame Xanadu #8
Madame Xanadu #9
Madame Xanadu #8
Madame Xanadu #1
Madame Xanadu #1