Invincible #41
By Geoff Hoppe
September 18, 2007 - 20:56
Image Comics
Writer(s): Robert Kirkman
Penciller(s): Ryan Ottley
Inker(s): Ryan Ottley
Cover Artist(s): Ryan Ottley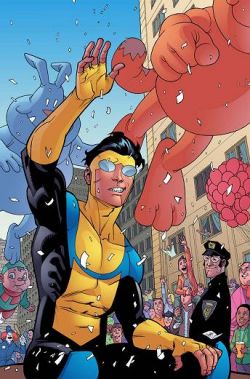 Sorry, Robert Kirkman, but the honeymoon's over. I've had only nice things to say about Invincible thus far, but they end with #41.

In Invincible #41, Mark Grayson and half of the Global Guardians (a JLA-esque hero team) fend off an alien invasion. The other Global Guardians are on earth, getting maimed, smashed, shot, ripped apart, then pantsed and dragged around their high school track. Mark's relationship with fellow hero Atom Eve also takes a step in a new direction...

It's time for Kirkman to decide which way he's going to go: parody or serious. It's one thing to create characters with powers reminiscent of existing heroes. When you call your villain-team the Lizard League, though, there's too much parody to be taken seriously. This wouldn't be a problem if these goofy derivatives didn't gorily kill two characters and initiate the "Smuckers Effect." (The "Smuckers Effect" is when there's so much gore, it looks like a raspberry jam factory blew up). The mix of parody and extreme violence comes across as flippant, and thus seems to insult the reader. It also detracts from an otherwise exciting story. The rhythm and dialogue #41 are solid, but overall, this issue (and, incidentally, the two preceding it) fails to satisfy.

Ryan Ottley's quality hasn't gone down. The mix of romance and brawling in #41 allows Ottley to show his versatility. The only problem is that Ottley can't draw a convincing execution scene. His style's too cartoony, and the resultant scene-- a serious moment--plays out as farce. He tries his hardest, and his excellent inking almost makes it work-- but Ottley's pencils aren't suitable for morbid content.

Worth the money? Unfortunately, not this time. Kirkman's shown he can produce far better material--let's hope he leans more that way in the future.
Related Articles:
Invincible #99 Review
Invincible Iron Man #527 Review
Invincible #86
Invincible #84
Invincible #85
The Invincible Iron Man #510
Invincible Iron Man #509
Invincible Iron Man #508
Invincible #83
Invincible Iron Man #507