Halo 2 4-on-4 Results
By Eli Green
November 5, 2007 - 02:00

Earlier today, top-ranked team Final Boss managed to capture the

Halo 2

four-on-four title and take the $20,000 top prize at the 2007 Ford MLG Canadian Open, at the Direct Energy Centre in downtown Toronto. Team Final Boss captured the title after coming back from being thrown into the loser's bracket in an earlier round. The team battled back from what looked like possible elimination against team Carbon and team The Agency, finally defeating third-ranked team Str8 Rippin 3-1 in the tournament's championship match.
When asked about the team's fight to win the tournament, team captain, David "Walshy" Walsh said, "We came into the event ranked first, and Saturday night, we actually lost in the semifinals to The Agency, which is a really good team – the fourth ranked team. But we ended up coming back on Sunday, winning every single round, beating The Agency again. We beat Carbon, who are the second ranked team, and we also beat Str8 (Str8 Rippin), who won the winner's bracket finals. So it was a long, tiring day, but we ended up winning, so it was a tournament to remember."
When asked about his thoughts on the Canadian competitors in the tournament "Walshy" said, "Surprisingly, a lot of the Canadian players I saw here were amazing. Very good players. But as a team, they need more experience, because we've played them in multiple tournaments, like ten to thirty tournaments in the last few years and this is probably one of their first tournaments playing against the top people, so I just think they need more experience."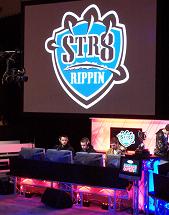 Team Str8 Rippin stood their ground for the length of the tournament, only falling to team Final Boss during the championship match. Though it seemed to some of the spectators in the crowd that they were struggling in their match against team The Agency for the top spot in the winner's bracket, Str8 Rippin member Kyle "Elamite Warrior" Elam disagreed. "We beat them. Some of the games were close, but I thought it would be harder, especially considering we didn't even show up to the venue until, like, five minutes before we played," said Elam, "So we didn't have any time to warm up. But we lost the first game, but warmed up and beat them the next three."
When asked about the team's second place finish Elam said, "You know, second place is good I guess. Not first place, but they were playing really well." Though not fully

pleased with the final result, he said that he knew team Final Boss was their biggest
challenge. "Well I always knew we were one of the best teams," he said, "and our main competition was Final Boss. Carbon finished fourth, but they played Final Boss in the loser's bracket, so all the top four teams that were here this tournament from the U.S. were really good."
While they did not finish in the top four, Canadian based teams End Result, North of 49 and Notorious Four did manage to hold places in the tournament's top eight spots, placing consecutively in places six, seven and eight. Full details on the top eight teams, and the prize money awarded to each team follows:
Halo 2 Four vs. Four Results – 2007 Ford MLG Canadian Open

1) Final Boss - $20,000
Name Gamer Tag Hometown
Michael Cavanaugh Strongside Edgewood, Kentucky
Dan Ryan Ogre1 Pickerington, Ohio
Tom Ryan Ogre2 Pickerington, Ohio
David Walsh Walshy Grandville, Michigan

2) Str8 Rippin - $10,000
Name Gamer Tag Hometown
Mason Cobb Neighbor Mukilteo, Washington
Kyle Elam Elamite Florence, Kentucky
Warrior
Bryan Rizzo Legit Palm Harbor, Florida
Tom Taylor Tsquared Baldwinsville, New York

3) The Agency - $7,500
Name Gamer Tag Hometown
Paul DiMeck Slim Pinckney, Michigan
Brett Leonard Naded Antioch, California
Justin Mann Halogod Puyallup, Washington
Cameron Victory_X Bloomfield, Michigan
Thorlakson West

4) Carbon - $5000
Name Gamer Tag Hometown
Eric Hewitt Gh057ayame Westfield, New Jersey
Ben Jackson Karma Richmond, Virginia
Scott Lussier Gandhi Nokesville, Virginia
Chris Smith Shockwave Berwyn, Pennsylvania

5) Nice Like Rice - $3,500
Name Gamer Tag Hometown
Raymond RAY Commerce, Michigan
Markham
Jordan Blackburn LegendJRG West Chester, Ohio

Tyler Hewitt Hewy Burlington, Ont.
Kyle Magee Chronic Lies Riverview, Michigan

6) End Result - $2,000
Name Gamer Tag Hometown
JordanCourchesne LL lufekzion LL Lindsey, Ont.
Kevin Garcia DARKscorpion Keswick, Ont.
Matt Hearne IHearne Mississauga, Ont.
Max Rawal MaD MaX Toronto, Ont.

7) North of 49 - $1,250
Name Gamer Tag Hometown
Thomas Dressel Silent Montreal, Que.
Nelson Triana G-SpOt Ottawa, Ont.
Bo Kovacevic The Bo Toronto, Ont.
Leo Vitelli Alpha Richmond Hill, Ont.
XFactor

8) Notorious Four - $750
Name Gamer Tag Hometown
Mike Jowett Genetix Burlington, Ont.
Brandon Moniz Moniz Mississauga, Ont.
Kyle Smithers Krizen Mississauga, Ont.
Matt Warkentin Furien St. Catharines, Ont.
Related Articles:
Rainbow Six Vegas 4-on-4 Results
Halo 2 Free For All Results
Halo 2 4-on-4 Results
Gears 4-on-4 Results
DDR Study Results: Full Press Release