Mike Wolfer Talks Avatar Press' Gravel
By Leroy Douresseaux
November 12, 2007 - 13:18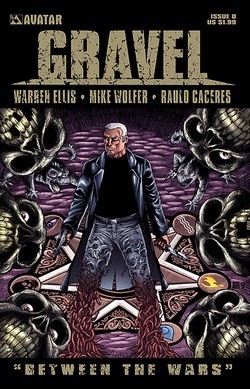 Wolfer's Gravel #0 cover
This coming January 2008, Avatar Press will publish Gravel #0, the first issue in a new ongoing series featuring the character William Gravel, the star of Strange Kiss. The creation of writer Warren Ellis ( Black Summer) and artist Mike Wolfer ( Streets of Glory), Strange Kiss was a series of six mini-series Avatar published from 1999 to 2004.
Gravel will continue the strange adventures of William Gravel with Mike Wolfer sharing writing duties with Warren Ellis. Raulo Caceres, Ellis' collaborator on Crecy, will now assume the job of visualizing William Gravel's bizarre world. Wolfer participated in a short Bin Q&A about Gravel:

CBB: Would you mind giving a little background on the William Gravel character and the world in which he operates… as you see it?
MW: William Gravel was created by writer Warren Ellis in 1999 as the lead character in his Strange Kiss mini-series for Avatar Press. Gravel is a no-nonsense, single-minded military man, a Sergeant Major in the elite British S.A.S. and the hardest bastard you'll ever meet. Often moonlighting for pocket cash, Gravel will take on the dirtiest, most illegal jobs, ranging from corporate disruption to political assassination, covert ops that expose a darker side of the world that we think we know, revealing secrets that are better left unexplored. Often beginning small and quietly, Gravel's missions usually end in a spectacular, guns-blazing, over-the-top fashion, resulting in untold property damage and a string of corpses to mark his passing. Oh... And he's also a Combat Magician, with occult forces at his fingertips that can distort time, space and human perception, or make an enemy vomit his own entrails. Now that's a good time!
CBB: I've never read the previous Gravel comics, but having read a little about them, I get the idea that William Gravel lives in a world of violence or extremes. Is there a deeper meaning here about the use of violence or is this about creating cool vicarious thrills for both the creators and readers?
MW: It's a little of both, with vicarious thrills being the initial impetus for his creation. Strange Kiss was conceived as a one-shot mini-series designed to shock with its excessive violence and high-speed action; a non-stop thrill-ride, if you'll pardon the overused cliché. As critical and fan reaction to the first series poured in, we began to explore more of Gravel's world in subsequent mini-series, carefully retaining Warren's original intent: the delivery of twisted subject matter and gut-churning violence that was more of a testing of readers' stomachs than an exploration of any deeper meaning. But William Gravel has grown as a character and we've seen hints that there is a human being inside the unapologetic killing machine. Not a pleasant man by any stretch of the imagination, but human nonetheless.
CBB: What does this new ongoing series allow you to do with the character, if anything new from the previous series?
MW: As I said, we've seen Gravel grow as a character, but in the GRAVEL ongoing series, we'll be exploring for the first time that side of his world that we have never seen before: The occult and his ties to the world of magic. We've witnessed what he can do, but we've never really understood why he does it or from where it springs. With the expanded format of the ongoing monthly, we can step outside of the prerequisite three-act structure of the mini-series to really get into this guy's head. I don't think we're going to like what we find there, but it will give us a better understanding of his place in a world that the average person could barely comprehend, the world of the occult.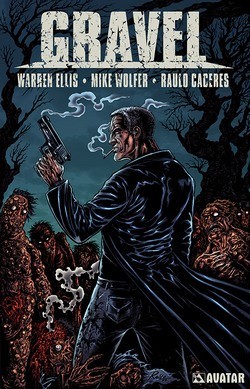 Raulo Caceres' alternate Gravel #0 cover
CBB: If possible, please describe how you and Ellis write as a team, what duties you share, and what you may do alone?
MW: The Gravel series is very much a team effort, a true collaboration of creative energies. It's a unique working environment and quite different from the traditional comic book creating process. Warren Ellis is one of the most popular and highly-regarded writers in the entire industry, and he provides the spark of genius that propels the series. In very detailed, 7 or 8-page plot breakdowns, Warren delineates what will occur in each issue, providing vital passages of dialog, which is his forte.
It is then my duty to write the full 22-page, panel-by-panel script for the artist, Raulo Caceres. Since I am both a writer and artist (and formerly the only illustrator to have worked on the previous six mini-series), I infuse the script with my own visual choreography, imparting it with my personal sense of pacing and sequential storytelling. Raulo then breathes two-dimensional life into each issue, with his own unique style of intricate background details and solid chiaroscuro. I'm extremely proud of the final product and couldn't be happier with the results.
CBB: What does the Gravel ongoing offer old fans and what about Gravel may make new readers care?
MW: While Gravel is the continuation of previously published work, it is designed to be a starting point for new readers who are unfamiliar with the past mini-series. In the opening sequence of Gravel #0, everything you need to know about the Combat Magician will be spelled-out in spectacularly bloody fashion and from there we launch into a direction that has been unexplored until now, so new and old readers alike will be discovering a new world together. Of course, existing fans will know to expect the unexpected and will be prepared for the more cringe-worthy moments that are sure to occur, but for new readers... Get ready to be shocked, disturbed and most of all, entertained in a way that you would never expect from a comic book.
Visit avatarpress.com to get information on purchasing any of the Strange Kiss trade paperbacks, as well as other comic books series by both Warren Ellis and Mike Wolfer.
Last Updated: September 6, 2021 - 08:15