Mighty Love
By Leroy Douresseaux
July 23, 2009 - 07:39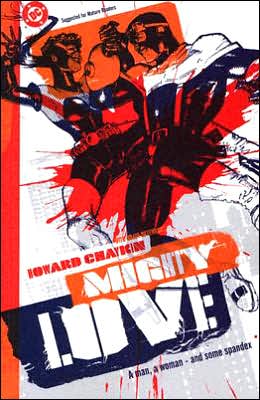 Mighty Love cover image
Back in 2004, DC Comics published Mighty Love, a hardcover graphic novel from Howard Chaykin, the creator of one of the most influential comic books of the last 30 years, American Flagg! [In 2005, DC published a paperback version of Mighty Love.] Mighty Love isn't on the level of American Flagg!, but Chaykin's trademark smart-ass dialogue and distinctive artwork are plentiful here.
Mighty Love revolves around two costumed heroes, Iron Angel and Skylark. By day, Lincoln Reinhardt is a wealthy liberal attorney who defends criminals, but he is secretly tired of the moral morass that is his professional life. So by night, Reinhardt becomes the masked vigilante, Iron Angel, defending the justice he circumvents every day by bashing the kind of scum he normally represents. By day, Delaney Pope is a straight-arrow detective serving in a crooked police department, but she is tired of working in a murky world of ethical compromise. So by night, this conservative cop becomes Skylark, a bleeding heart masked defender of the justice that she circumvents as an agent of a corrupt administration.
Iron Angel and Skylark, who were previously unaware of each other's existence, join forces after a fundraiser turns deadly during a robbery. The police are looking at Lincoln's girlfriend, Bess Autrey, as a prime suspect. Delaney, who despises Lincoln, is the lead detective. If only Delaney Pope knew that Skylark's new pal, Iron Angel, is none other than her nemesis Lincoln Reinhardt…
While Mighty Love might not be American Flagg!, Mighty Love resembles Howard Chaykin's mid-1980s revamps of The Shadow and Blackhawk for DC Comics. This story has the same crisp graphic inventiveness mixed with the look of 1940s Film-Noir. Chaykin has toned down the sexual perversity of his 80s work, in favor of sexual innuendo, but Chaykin retains the snappy dialogue readers have come to expect from the comics he writes. There is even a running joke about euphemisms (like "packing heat" and "blow this pop stand").
In a way, Mighty Love is an "old reliable" type Chaykin comic. His fans know what they're getting, but what they're getting is entertaining. Nothing here is earth-moving, but Chaykin brings the opposites-attract romance, superhero genre, and urban crime fiction together in a way they would seemingly not mesh. It's as if these genres together are a natural thing – three great tastes that taste quite good together – and it's all so lighthearted, in spite of the violence.
Devotees of superhero comics will understand why Chaykin eschews exploring the reasons why a police detective and a criminal defense attorney would moonlight as costumed vigilantes, even though the trend the last 30 years is to dig in the dirt to find out why Spider-Man, Batman, and others put on masks, cowls, capes, and even spandex. Mighty Love is simply here to be loved. It's like a neo-golden age Hollywood film, drawn with Chaykin's visual detail for urban settings, snazzy interiors, and sharply-dressed characters.
B+
Last Updated: August 31, 2023 - 08:12