Comics / Comic Reviews / Marvel Comics
Mighty Avengers #1 comics review
By Leroy Douresseaux
September 24, 2013 - 13:45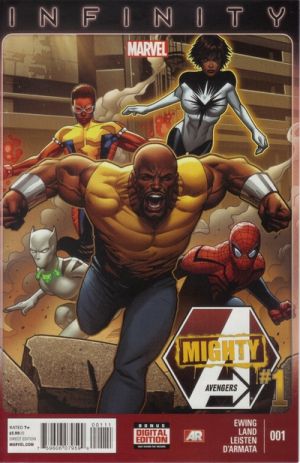 Mighty Avengers (2013) #1 cover image - art by Greg Land and Lee Duhig
Rated T+
Out of Marvel Comics' "Infinity" event comes a relaunch of Mighty Avengers. British comic book writer Al Ewing and reliable artist Greg Land deliver the ultimate cookie cutter Avengers comic book in Mighty Avengers #1. This comic book is not a bad cookie, but it is not a $3.99 cookie.
It is more like a cookie you can get in a $1 bag of cookies at a dollar store (Dollar General, Family Dollar, Dollar Tree, etc.). So Mighty Avengers is not even the equivalent of a "quality" mass-produced cookie brand (Nabisco?). It is certainly not a boutique shop cookie baked by two broke girls who just opened their own cookie shop with daddy's money.
So what happens in this new comic book called Mighty Avengers? The Avengers are off-world, handling someone else's business, so who is handling their business back home? Thanos sends a badass bitch named Proxima Midnight to take advantage of an Avenger-less Earth. Meanwhile, back at the ranch, Luke Cage, Spectrum (formerly known as Captain Marvel), Superior Spider-Man, Power Man and a few others have conversations about themselves. Then, they fight.
THE LOWDOWN: I think Mighty Avengers is supposed to be clever or at least funny in the vein of the old Keith Giffen, J.M. DeMatteis, Kevin Maguire Justice League. It is neither. So much for that wry British humor. The computer program that Judith Krantz, Danielle Steel, and other bestselling authors supposedly use to write their novels must be similar to the tech Greg Land uses to draw his clone superhero comic book art.
The result of Ewing and Land's efforts is a comic book that is neither mighty nor spectacular, but it isn't completely bad. It is Avengers and if you like Avengers, well...
POSSIBLE AUDIENCE: Fans in need of an Avengers fix will want Mighty Avengers.
Rating: 5 /10
Last Updated: January 24, 2022 - 11:00