The Signifiers #2 at Kickstarter
By Leroy Douresseaux
May 17, 2011 - 20:41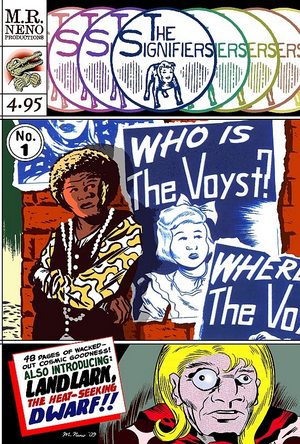 The Signifiers #1 cover image
Last year I reviewed The Signifiers #1 by Michael Neno (published by M.R. Neno Productions). I want to let you know that the second issue is listed on Kickstarter.com (the first issue didn't sell enough copies through Diamond Distributors for them to continue distributing it).
The Signifiers #2 will also feature an exclusive interview with cartoonist Tom Scioli (Godland, The Myth of 8-Opus) on the state of comic book distribution, including unpublished art from his wicked webcomic, American Barbarian. Issue #2 will be 52 pages, B&W, with color covers and a $5.95 cover price. Money pledged for this project will be used towards the printing bill and pledgers will receive new copies of The Signifiers #2 as soon as they are printed.
The Kickstarter.com project will only be funded if the goal amount is pledged by June 5th, 2011.
http://www.kickstarter.com/projects/1317514173/the-signifiers-2?ref=live

www.NenoWorld.com
http://twitter.com/#!/Nenofsky
http://eventized.blogspot.com/

Last Updated: September 6, 2021 - 08:15