Me and the Devil Blues: The Unreal Life of Robert Johnson, Book One
By Leroy Douresseaux
July 31, 2008 - 14:55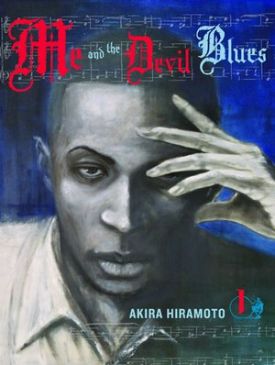 Thanks to barnesandnoble.com for this cover image.
Rated "T Ages 16+"
Me and the Devil Blues is manga-ka (creator) Akira Hiramoto's fictional biography of legendary bluesman, Robert Johnson. First published three years ago in Japan by Kodansha, Hiramoto's manga, which mixes myths and legends and mythological and legendary figures, recently arrived as Me and the Devil Blues: The Unreal Life of Robert Johnson, Book One, published by Del Rey Manga.
Likely because of the stories told by fellow blues legend, Son House, the story goes that Robert Johnson made a deal with the devil to become an expert blues guitarist and singer, with the cost being his soul. Me and the Devil Blues begins in 1929 and is set deep in the impoverished Mississippi Delta where a nigga's life ain't worth crap and lynching is a community event much like a church social.
This is where we meet Hiramoto's stand-in for Robert Johnson, RJ, a poor farmer who just doesn't want to spend his life hoeing a field. Despite the protestations of his pregnant wife, the former Virginia Travis, her family, and his friends, RJ wants to learn to play the blues. Fate brings him into contact with the popular traveling bluesman, Son House, and his partner, Willie Brown. House insists that understanding and playing the blues is about more than a guitar technique, but RJ ain't hearing it. As far as RJ is concerned, all he needs is someone to show him how to make his fingers work guitar magic, so his stubbornness leads him to a fateful night at an abandoned church. [This tale co-stars Clyde Barrow.]
THE LOWDOWN: There's some powerful mojo in Me and the Devil Blues. Akira Hiramoto's manga sparkles with wild magic and sets the imagination afire. What drives this superb manga is not just the excellent contents of the word balloons (OK, dialogue), but the stunning visuals, which Hiramoto composes using a variety of styles, techniques, and media. The story of an individual African-American and the struggles of Jim Crow-era blacks have rarely been told in such passionate and astonishing pictures outside of cinema and fine art. I would say this belongs with the few great comics about black people like Ho Che Anderson's King, Kyle Baker's Nat Turner, and Sue Coe's X, which like Me and the Devil Blues are works by cartoonists or writer/artists.
Imagining a Japanese man drawing such beautiful and beautifully human African-Americans in a story that captures the Black American experience with such authenticity seems like madness. It's not that Hiramoto presents black people as a noble, oppressed people. It's simply that he made me believe that these cartoons, these comic book characters really lived. They haunt me, yet I want to share the trials and tribulations of RJ and his people, as seen in this special work.
POSSIBLE AUDIENCE: Who is the audience for Me and the Devil Blues? Simply put, that audience is made of people who read great works – prose, poetry, or comics.
A+
Last Updated: August 31, 2023 - 08:12