Marvel Comics Sends Incredible Hercules Back to Press
By The Editor
June 30, 2008 - 04:37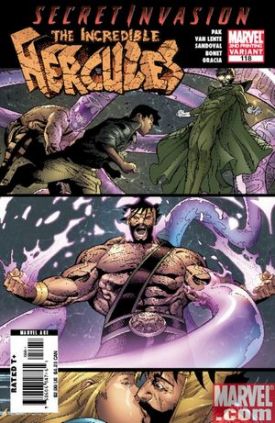 Rafa Sandoval's interior art becomes the cover from Incredible Hercules #118 Second Printing Variant.
Secret Invasion's Incredible Hercules #118 Gets A New Printing!
Marvel is pleased to announce that due to overwhelming demand for Incredible Hercules #118, which led to a quick sellout at Diamond, the issue will return with Incredible Hercules #118 Second Printing Variant! The critically-acclaimed series from the red-hot writing duo of Greg Pak & Fred Van Lente, along with rising star artist Rafa Sandoval, present the newly formed God Squad on a mission to defeat the Skrull gods in this Secret Invasion tie-in. But what does Nightmare have to do with all this? And who isn't what they seem? Incredible Hercules #118 Second Printing Variant features Sandoval's stunning interior art on a new cover.
"I couldn't be happier with both the art and the story," said Paul Brian McCoy of ComicsBulletin.Com. "They work hand in hand to create one of the best current Marvel runs I can remember. It's consistent, too. This is a title that everyone should be reading."
Kyle Posluszny of WeeklyComicBookReview.Com gushed, "Incredible Hercules scores again with another good issue. The story is fun, the writing is excellent, and the artwork is almost always a treat to look at. As I said before, if you aren't reading this series, you should be."
"It seems like this title can do no wrong," said Bryan Joel of IGN.Com, who deems Incredible Hercules a "must-read."
Marvel urges retailers to check their orders on Incredible Hercules, as the series – and all Secret Invasion tie-ins – continue to sell out quickly! With a traitor in their midst, will the God Squad survive this mission intact? Keep reading Incredible Hercules to find out!
Please note that copies of Incredible Hercules #118 may still be available at the retail level.

INCREDIBLE HERCULES #118 SANDOVAL 2nd PRINTING VARIANT (MAY088144)
Written by GREG PAK & FRED VAN LENTE
Penciled by RAFA SANDOVAL
Cover by RAFA SANDOVAL
Rated A …$2.99
FOC-7/3/08, On-Sale-7/23/08
INCREDIBLE HERCULES #119 (MAY082312)
Written by GREG PAK & FRED VAN LENTE
Penciled by RAFA SANDOVAL
Cover by JOHN ROMITA JR., KLAUS JANSON & DEAN WHITE
Rated T+ …$2.99
FOC-6/26/08, On-Sale-7/16/08
To find a comic shop near you, call 1-888-comicbook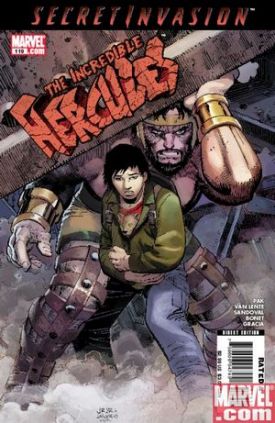 Incredible Hercules #119 cover by John Romita, Jr., Klaus Janson, and Dean White
Last Updated: August 31, 2023 - 08:12