Alan Who? Mark Millar and Kick Ass Still Rule
By The Editor
June 20, 2008 - 04:54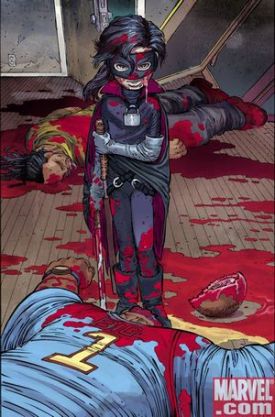 Kick Ass #3 Second Printing
Kick Ass Continues To Take Names As It Sells Out Again!
Marvel is pleased to announce that Kick Ass #3, from the superstar Wolverine: Enemy of The State dream team of writer Mark Millar and John Romita Jr, has sold out at Diamond, marking the fifth straight sell out for the Icon series (which has sold out of multiple printings). To meet the overwhelming, increasing demand for this series, Marvel is going back to press with Kick Ass #3 Second Printing Variant, features Romita Jr's powerful interior art on a new cover.
Ariel Carmona Jr of ComicBulletin.Com gushes, "This comic's most appealing aspect may be its sense of unpredictability. .. the super hero genre conventions are both examined and turned on their head. This comic always guarantees a great read and the artwork by Romita Jr. is always fluid, detailed and exciting."
"When a comic's got Mark Millar and John Romita Jr. at the helm, it's hard to see that even something this radical could have been anything other than a massive success," says James Hunt of ComicBookResources.Com. "Every page is soaked in pure enthusiasm, and you can't help but feel that Romita and Millar must be having the time of their lives with this."
As the excitement for Kick-Ass continues to grow, Marvel urges retailers to check their orders on this hit series that just gets more popular with each issue! Who is this new player on the scene? And how will this affect Dave? Find out in upcoming issued of Kick Ass!

KICK-ASS #3 SECOND PRINTING VARIANT (MAY088058)
Written by MARK MILLAR
Pencils and Cover by JOHN ROMITA JR.
Mature …$2.99
FOC—6/26/08, On-Sale—7/16/08

KICK-ASS #4 (MAR082250)
Written by MARK MILLAR
Pencils & Cover by JOHN ROMITA JR.
Mature …$2.99
FOC—7/24/08, On-Sale—8/16/08

To find a comic shop near you, call 1-888-comicbook
Last Updated: September 6, 2021 - 08:15