Maleficent Blu-ray and DVD review
By Leroy Douresseaux
November 2, 2014 - 16:25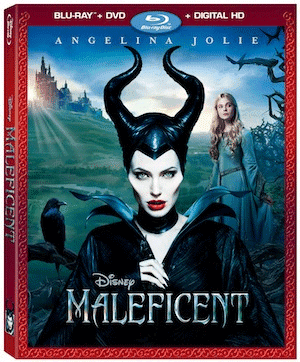 Maleficent Blu-ray/DVD combo box art
Follow me on
Twitter
.
Disney's most iconic villain, "Maleficent," from Walt Disney's animated classic film,
Sleeping Beauty
(1959), comes to life in the worldwide, box office smash, live-action film,
Maleficent
. Starring Academy Award®-winning actress
Angelina Jolie
(Best Supporting Actress,
Girl, Interrupted
, 2000) as Maleficent, this wickedly fun twist on the classic "Sleeping Beauty" arrives for all to own on
Tuesday, November 4, 2014
. The live-action film will be made available on Disney Blu-ray™ Combo Pack, Digital HD, Disney Movies Anywhere, DVD and On-Demand platforms.
A truly unique, dark fantasy film and action movie epic, Maleficent looks unlike any other movie audiences will see this year. It presents the elements and symbols of the fairy tale in a different manner, but retains the enchantment of such stories and is hugely entertaining.
Maleficent is set in a land where there are two kingdoms, the
Moors
, the magical realm of the faeries, and a human kingdom that borders it. An ambitious human monarch,
King Henry
(Kenneth Cranham), covets the Moors, but finds his efforts to conquer it stymied by
Maleficent
(Angelina Jolie), the queen fairy.
Stefan
(Sharlto Copley), a human who has known Maleficent since they both were children, believes that he has a solution to the conflict between the humans and the denizens of the Moors. However, this solution leads Maleficent to place a curse on Aurora, an infant human princess. Years later, Maleficent discovers that
Aurora
(Elle Fanning) may be the only one who can restore peace and hope to the troubled land.
Maleficent is certainly pretty, even gorgeous. The costumes, clothing, head-wraps, and jewelry that Angelina Jolie dons as Maleficent can be described as "classic couture." The production design is lavish and simply beautiful; in fact, the director of Maleficent, Robert Stromberg, is an Oscar-winning production designer for how work on
Avatar
(2009) and
Alice in Wonderland
(2010). The creature design and CGI on the fairies of the Moors and on the dragon in the final battle have qualities that make them both tangible and magical; they're quite lovely.
However, Maleficent is not prettified. It is not the prettiness and beauty or the baroque wonderland that is the Moors that make Maleficent a unique and splendid film. The thematic richness that digs beneath the pretty and simplified surface of classic fairy tales makes Maleficent something that is rare in modern film – a fairy tale that is an allegory about the complexities of the human condition. Linda Woolverton composes a screenplay that offers a feminist reinterpretation of Sleeping Beauty, and the result is Maleficent. This is a film that does not portray women as princesses waiting for the prince-hero or knight-hero who will save them and then, marry them happily-ever-after. This film is about women, but it portrays them with complexity and subtly in depicting their relationships with other women, with the world, and with themselves.
That is not to say that this movie does not kick-ass. The battle scenes in Maleficent are far more exciting and visually interesting, even striking, than all those fantasy movies that desperately tried to copy Peter Jackson's Lord of the Rings films. Somehow, the man versus magical creature battles in Maleficent manage to seem fresh and new.
I do have some complaints about Maleficent. Much of the first half-hour of this film lacks a sense of direction and is stiff. The pixie trio and Stefan are under-realized characters, exemplifying the character missteps that keep this film from being a truly exceptional fantasy masterpiece.
Overall, however, I like this movie a lot. Angelina Jolie proves her star power and talent, because this movie could not exist without her playing the lead. Maleficent is a distinctive dark fantasy film, when so many other American epic fantasy films seem as if they come from the same bag of stale cookies.
Bonus Clip: Aurora: Becoming a Beauty
Preview Link: https://www.youtube.com/watch?v=Odri_z7DUis
Bonus Clip: Bringing the Curse to Life
Preview Link: https://www.youtube.com/watch?v=0jtNqWbSUhw
Bonus Features:
Blu-ray Combo Pack, Digital HD/SD & Disney Movies Anywhere
· From Fairy Tale to Feature Film - Reimagining Maleficent for a new generation
· Building An Epic Battle –Creating the clash between Maleficent and King Henry's Forces
· Classic Couture - Examine Maleficent's spellbinding head wraps and jewelry.
· Maleficent Revealed - Explore the layers of extraordinary special effects.
· Aurora: Becoming A Beauty - Elle Fanning reveals her lifelong love of Disney's original animated classic.
Deleted Scenes:
"Stefan In King's Chamber"
"Pixie Idiots"
"Diaval asks about the Curse"
"Pixies Seek Asylum"
"Suitor"
...And More!
*Digital bonus offerings will vary per retailer

DVD
-Aurora: Becoming A Beauty
Rating: B+ /10
Last Updated: February 5, 2023 - 09:06