Comics / Comic Reviews / More Comics
Lifeformed: Cleo Makes Contact comics review

By Leroy Douresseaux
March 15, 2018 - 11:29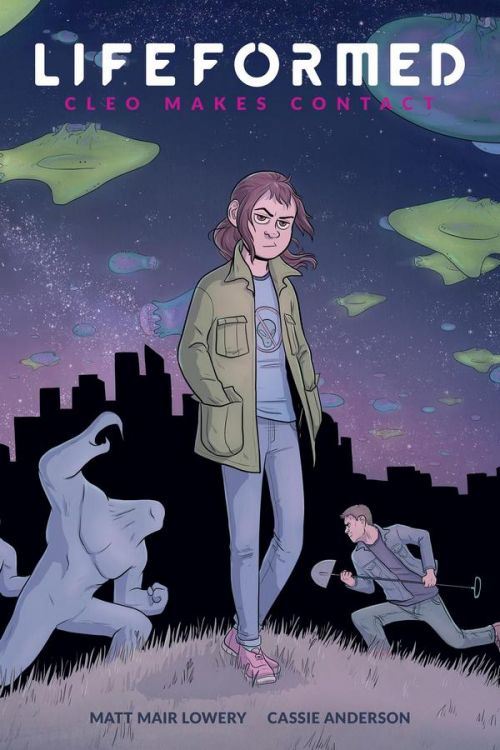 Lifeformed: Cleo Makes Contact cover image
Age range: 12; Genre Science Fiction, Action/Adventure
Lifeformed: Cleo Makes Contact
is a young adult, science fiction graphic novel from writer
Matt Mair Lowery
and artist
Cassie Anderson
. A paperback original, this graphic novel was first published by Dark Horse Comics in September 2017. Lifeformed: Cleo Makes Contact follows an 11-year-old orphan and the shape-shifting alien she befriends as they travel the countryside in the wake of an alien invasion... and fight back.
Cleo Elward
can be described as the typical 11-year-old girl on the verge of teen brat-hood. Her single-father,
Alex Elward
, is loving, doting, and involved; the two of them are making the best of life. Then, suddenly, unbelievably, the sky is filled with strange airships, heralding an alien invasion, and Alex is killed during first wave of the attack.
Just as suddenly, an alien arrives and approaches Alex Elward's body and then shifts its form so that it resembles Cleo's father. Aided by this alien shape-shifter, who turns out to be a rebel, Cleo escapes the invasion by traveling the countryside. It is not long, however, before she must join "alien dad" in fighting the invaders. Can Cleo work through her grief and find the courage to fight back?
THE LOWDOWN:
Earlier this year, Matt Mair Lowery, the author of Lifeformed: Cleo Makes Contact, made contact with me via Twitter. He offered me a PDF copy of his graphic novel for review. I was surprised that I had never heard of it, as I have been perusing Diamond Distributors weekly comics shipping list and posting it on my blogs and at the Comic Book Bin for almost a decade.
I am glad that Lowery reached out to me because he and artist Cassie Anderson have created in Lifeformed: Cleo Makes Contact one of the best young adult graphic novels that I have read over the last few years. Lifeformed's themes of courage and choice resonate throughout the narrative, and the story ponders the questions of what it means to be human without being heavy-handed.
Cassie Anderson's illustrations and graphical storytelling are powerfully dramatic, but, at the same time, they are lively and colorful, going down the old gullet of the reader's imagination smoothly. Anderson's clean drawing style is easy on the eyes, but also depicts the characters' emotions in a varied manner that gives the characters' personalities depth. I found myself in love with these characters, and Cleo is even more lovable when she is being annoying and bratty. That is the joy in reading Lifeformed – loving the heroes and being intrigued by the villains.
I hope young readers discover Lifeformed: Cleo Makes Contact. I am not sure if Dark Horse Comics is the right place for it. It is not to late to discover this enjoyable YA comic book, Lifeformed: Cleo Makes Contact
THE LOWDOWN:
Readers looking for cool comics for middle school readers and also people who just want to read good comics will want
Lifeformed: Cleo Makes Contact
.
A
8 out of 10
Cassie Anderson:
cassieanderson@wwdb.org
https://twitter.com/CassieDoesArt
Matt Mair Lowery:
mattmlpdx@lifeformedcomic.com
https://twitter.com/mattmlpdx
http://www.lifeformedcomic.com
Rating: 8 /10
Last Updated: September 6, 2021 - 08:15