Kitchen Princess: Search for the Angel Cake
By Leroy Douresseaux
December 19, 2009 - 11:37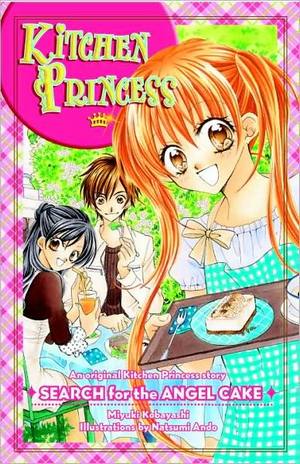 Kitchen Princess: Search for the Angel Cake cover image
Written by Miyuki Kobayashi and drawn by Natsumi Ando, Kitchen Princess is a shojo manga that follows a teen girl named Najika Kazami. A talented young chef, Najika is an orphan whose parents, who were both up and coming pastry chefs, died in an accident. Najika leaves an orphanage in Hokkaido so that she can attend Seika Academy, an escalator school (elementary through high school), where many of the students are rich.
Najika goals are to become a great chef and to find her "Flan Prince," the boy that saved her from falling into a river and gave her a cup of flan with a silver spoon with Seika Academy's emblem on it. Her friends at school include Daichi Kitazawa (a candidate for Flan Prince) and Akane Kishida, a teen model.
Based upon the manga, Kitchen Princess: Search for the Angel Cake is a "light novel," an illustrated short novel for young readers, written by Miyuki Kobayashi with illustrations by Natsumi Ando. In this novel, Najika faces one of her toughest tests. Classmate Anju Takanashi asks Najika to make refreshments and dessert for a flower-viewing party at her home. This job leads to Najika meeting Anju's wheelchair bound grandmother; the old woman also claims that she knew Najika's parents.
The old woman (apparently suffering from dementia) tells Najika that her parents made a promise to her that they were unable to fulfill because of their deaths. They were going recreate a white cake the grandmother had eaten when she was a teenager studying in the United States, but the grandmother cannot remember exactly what kind of white cake it was. Thus, begins Najika's journey through spring, summer, autumn, and winter to discover a recipe for the mysterious white cake. With her friends Daichi and Akane, and her boss, Fujita-san, by her side, Najika also prepares tasty dishes, makes new friends, and helps many people along the way.
THE LOWDOWN: As sweet as the treats that Najika likes to prepare, Kitchen Princess: Search for the Angel Cake is lovely reading experience. With its simple message of "good food and good friends are all you ever really need" this novel emphasizes helping and giving, and the good feelings that the characters receive for doing good deeds also seem to travel straight to the reader's heart.
Natsumi Ando's full page illustrations embellish Miyuki Kobayashi's breezy, but heart-warming storytelling, and Ando's spot illustrations of tasty dishes and treats tickle the appetite. Like the Kitchen Princess manga, this novel also includes a few recipes.
POSSIBLE AUDIENCE: Young and 'tween female readers, the likely audience for the Kitchen Princess manga, will probably enjoy Kitchen Princess: Search for the Angel Cake.
A-
Last Updated: August 31, 2023 - 08:12