Interview with Leonard Kirk
By Hervé St-Louis
Nov 30, 2003 - 14:27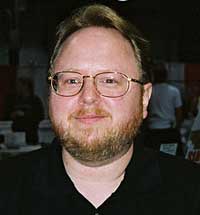 Leonard Kirk, artist on DC Comic's the JSA and Supergirl, was interviewed at the Montreal Comic Book Expo.
Hervé
Hervé: What are you working on?
Three issues of Hero (12-14) for DC Comics. I am doing more layouts for the JSA # 55, a fill in for Witch Blade, the Legion Secret Files. I'm working on an ongoing top secret series to be announced in the new year by DC. Next, I'm working on a six issue mini-series called Glory Be for Dreamwave. It's with Peter David.
Hervé: You seem quite busy.
I just finished JSA # 58, 20 minutes ago. It's been fun. It's a relief, after being dropped off.
Hervé: Why were you dropped?
They're having a new look. I also fell behind, slipped up on deadlines. It was me. I was complacent and screwed up. It's the first job I was ever fired from. It was a wake up call. Get back to the table, stop slacking off. I had lots of overlapping projects. I was preferred working 12-15 hours per day, but then, there was nothing at all.
Hervé: Are you Canadian?
I'm American, but I've been living in Canada most of my life.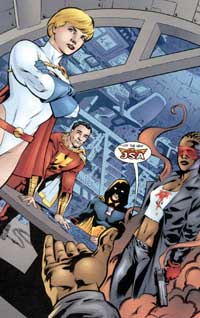 Hervé: Fans were rough when you started the JSA. They compared you to the previous guy.
Yeah, it was quite shaky. I laugh at it now. I was leaving Supergirl. Ed Benes was coming on. It's like fans were telling me "Sorry to see you go, but we're happy to see Ed!" I was burned on a stake by the JSA fans. What bothered me the most was that many admitted that they had not looked at my work for five years. Looking at it now, it's kind of fun. If it happens again, I'll get a laugh at it.
Hervé: How is your creative process? Do you have a stack of National Geographics?
I get to scribble in whatever format. I like drawing directly on the board. I'll do that if the page requires extra work. It's faster. I like it. Sometimes, I screw up. The first idea is often the best. Trying to duplicate one's work from roughs is hard. It works better. I don't use many references, except for props. I don't use photographs. I only used some for Star Trek Deep Space Nine. I prefer not to use references. It's faster out of my head and learn to draw better, without a crutch.
Hervé: Do you have a studio?
I work out of my home. It's a short commute. It's great!
Hervé: What's your favourite type of scripts?
I've had some very detailed. My only project with Michael Bendis, a short story, had lots of details. I tweaked it a bit. He liked it. I had some loose scripts too, but I'm not sure which type I like best. Detailed scripts are good for placement. Too detailed can drive me crazy. What I like the best about looser scripts is that they give me more freedom. I'm almost a writer. The only drawback is that I don't know how much space to leave for the bubbles.
Hervé: Have you noticed any storytelling changes from the 1970s to the 1980s?
There is a lot less of exposition. It must be the evolution of style, emulating film. There are less characters and villains describing scenes. We don't see much of that. That's the biggest change I've seen. In terms of the appearances of splash pages, sometimes they look good, sometimes, they don't. I try to avoid them. I only use them if it works. My goal is to draw the story so that anyone would understand without the captions. If they understand, I did my job.
Hervé: What do you think of padding (increasing the length of a story to make it more suitable for a trade paperback release)?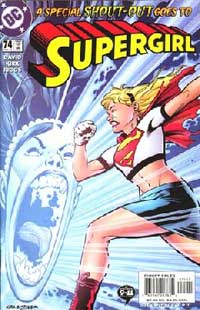 If it helps the story, yeah. If it doesn't no. If it doesn't help the story, I don't like it. I like trades myself. They help the series for new readers. They're cheaper than individual issues. The timing for releases is too tight though. It may hurt books. Demon War from Crossgen was released as a trade too fast. They wanted to tie it to a new book. It ticked out several people. It was a bad effect on the monthly. That's poor planning. Why didn't they start the monthly after the release of the other book instead?
Hervé: Who's your favourite Bond?
Sean Connery.
Hervé: Do you buy DCDirect action figures or Marvel Legends?
Well, I get the DC books.
Hervé
Read related articles such as:

Last Updated: Jun 26, 2018 - 9:28