J-Pop Summit Festival Has Tour Guide App
By The Editor
August 21, 2012 - 13:37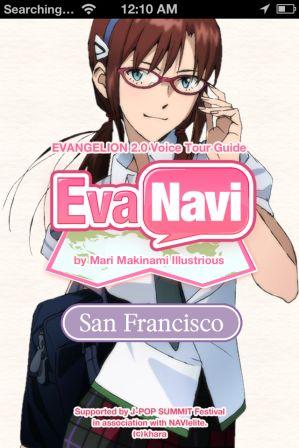 EvaNavi app image
2012 J-POP SUMMIT FESTIVAL INVITES EVERYONE TO TOUR SAN FRANCISCO WITH NEW EVANGELION 2.0 VOICE TOUR GUIDE APPLICATION FOR iPHONE
New EvaNavi San Francisco Voice Tour Guide Is A Fun Free Personal Tour Guide To 60 Must-See Pop Culture Attractions In The City
NEW PEOPLE, a dynamic entertainment destination bringing the latest examples of Japanese popular culture to North American shores, is pleased to announce the debut of a new iPhone app that will launch to North American users, supported by the 2012 J-POP Summit Festival in association with festival partners NAVIelite and KAYAC, Inc. The EvaNavi San Francisco Voice Tour Guide is a fun English audio application designed for the iPhone® that incorporates aspects from the hit Evangelion 2.0 sci-fi anime property to guide users to 60 notable attractions around San Francisco.
The EvaNavi SF application is available for FREE download from the iPhone®/iTunes® AppStore at: http://itunes.apple.com/us/app/id549431695?mt=8.
Anime fans, tourists, and even local residents can get to know the City by the Bay in an entirely new way with a unique audio guide powered by the voice of Mari Makinami Illustrious (voiced in English by actress Trina Nishimura) of the famed Evangelion:2.0: You Can (Not) Advance. anime film. The EvaNavi SF application was specially produced for North American fans and made possible by official support and approval from the creators of Evangelion 2.0 in association with NAVIelite (www.dribrain.com) and developed and designed by the Japanese IT creative company and web/mobile app developer KAYAC, Inc. (http://www.kayac.com/en).
San Francisco is world-renowned for an array of unique restaurants, stores, landmarks and other points of interest. EvaNavi SF features many unique locations ranging from the Japanese pop culture entertainment complex of NEW PEOPLE and the J-Pop inspired Hotel Tomo, to must-visit stops for anime fans and gamers such as the Cartoon Art Museum, the Super 7 collectables store, and Gamescape, as well as scrumptious Japanese eateries and live music venues such as Kiss Seafood, Juban Yakiniku House, Blowfish Sushi to Die For and Yoshi's San Francisco. The app also highlights many of the Bay Area's non-J-Pop attractions such as Citylights Bookstore, Radio Habana Social Club, Chronicle Books and many more "Must" local attractions.
The EvaNavi SF Voice Tour Guide launches in "EvaNavi Map" mode and shows 60 "must see" pop culture-inspired locations all over the city. Users can easily find the attractions nearest to them by turning on the app's geo-locator and tapping the arrow to locate themselves by GPS. An easy-to-use "Spot List" mode quickly finds locations sorted by distance as well as in alphabetical order. Other features include one-tap playing and easy audio controls as well as on/off options for spot notifications. The application is compatible with iOS 4.0 and up and requires iPhone (3GS and up) with internet or cellular data connection.
"This is a very useful application and we're very excited to launch it to North American users thanks to the support from our festival partners, NAVIelite and KAYAC," says Seiji Horibuchi, the founder of NEW PEOPLE, Inc. and co-chairman of J-POP SUMMIT Festival. "Users will have fun with our new EvaNavi SF Voice Tour Guide application accompanied by Mari's very informative voice! It's like checking out all the fun places with her as your personal guide! Even you are not familiar with Evangelion or anime, this will be a fun way to tour our beautiful city of San Francisco."
About J-POP SUMMIT FESTIVAL
The J-POP SUMMIT FESTIVAL is an annual Japanese Pop Culture celebration that features live bands and artists from Japan, pop culture panel discussions, film premieres, fashion and DJ dance events, and celebrity appearances. The Festival is hosted by NEW PEOPLE in cooperation with the Japantown Merchants Association. In 2011, the two-day event attracted 55,000 attendees. More information about the J-Pop Summit Festival is available at J-Pop.com.
Last Updated: September 6, 2021 - 08:15