2014 J-Pop Summit Has Pinky Doodle Poodle
By The Editor
July 1, 2014 - 12:58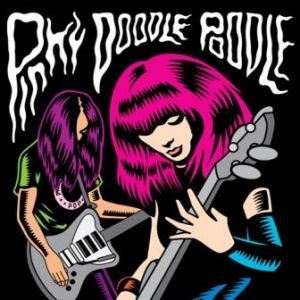 Pinky Poodle Doodle art
PINKY DOODLE POODLE BRINGS A HOT DOSE OF J-ROCK AND ROLL POWER TO 2014 J-POP SUMMIT
Female Fronted Power Trio From Tokyo Performs At Bay Area's Premiere Japanese Pop Culture Festival In Support Of New Record;

Catch Special Band Introduction From Good Charamel Records Founder And Goo Goo Dolls Member Robby Takac
The 2014 J-POP Summit Festival, San Francisco's annual celebration of Japanese pop culture, music, fashion and film, welcomes the high energy, female-fronted J-rock of Tokyo's Pinky Doodle Poodle. The power trio, led by lead vocalist/bassist/guitarist Yuria, will perform in the heart of the Festival action on Sunday, July 20th on the Pagoda Main Stage in Japantown.
The 2014 J-POP SUMMIT Festival is set take place across San Francisco's historic Japantown district on Saturday and Sunday, July 19th and 20th. FREE live concert sets by some of Japan's hottest pop and rock acts will take place throughout both days on the Pagoda Main Stage in Japantown's Peace Plaza as well as at a special open-air live concert in city's downtown Union Square the evening of Saturday, July 19th. Complete J-POP SUMMIT Festival details, artist info and timely updates are available at www.J-POP.com
Pinky Doodle Poodle appears in support of their full-length debut record which was produced by Goo Goo Dolls member Robby Takac. The band will also do a meet-and-greet with fans and attendees in the NEW PEOPLE Tent located on Post St. immediately following their afternoon concert set. CD's and additional merchandise will be available for purchase. Learn more about their J-POP SUMMIT appearance at www.j-pop.com/2014/pinky-doodle-poodle.
Robby Takac, whose band The Goo Goo Dolls is widely adored in Japan as well as the U.S., is set to appear in person to introduce Pinky Doodle Poodle on the Japantown stage on Sunday. Learn more about his Good Charamel Records at www.goodcharamel.com.
Pinky Doodle Poodle's 10-song self-titled album was released worldwide in April on Takac's Good Charamel Records, which specializes in releasing J-rock music artists. Pinky Doodle Poodle is also available on iTunes. The record features a memorable cover of the rock classic, "Twist and Shout."
Pinky Doodle Poodle formed in 2008 and is led by Yuria, a successful Japanese anime singer often heard in popular video games in Japan (such as "Gravion"), as well as on solo records and with her other band Honey Bee. On guitar is George, a long haired shredder/composer who injects the band's sound with a dose of musical power reminiscent of a marriage of the MC5 and Bad Brains that swirls under Yuria's playful Japanese/English lyrics and melodies. Official Band Website: PinkyDoodlePoodle.com; Official Band YouTube Channel: PINKY DOODLE POODLE.
About J-POP SUMMIT Festival
Launched in 2009, J-POP SUMMIT Festival is an annual street fair held in San Francisco, CA that celebrates Japanese popular culture. By introducing the latest in Japanese music, film, art, fashion, gaming, anime, food, as well as niche subcultures, the festival has become a prominent platform to showcase the latest pop trends and creative innovations from Japan.
The 5th annual J-POP SUMMIT held in July 2013 welcomed more than 80,000 attendees, making it one of the largest Japanese festivals in the United States. In addition to the original Festival held in Japantown, new attractions include the J-POP LIVE AT UNION SQUARE concert in downtown San Francisco, the Bay Area's premier dedicated Japan Film Festival of San Francisco, and sake-tasting and fine foods events at the POP GOURMET Food Festival, which have each further enriched the experience. Additional information about J-POP SUMMIT Festival is available at: J-POP.com.
Last Updated: September 6, 2021 - 08:15