J-Pop Rock Band, Scandal, Coming to America
By The Editor
March 30, 2015 - 20:38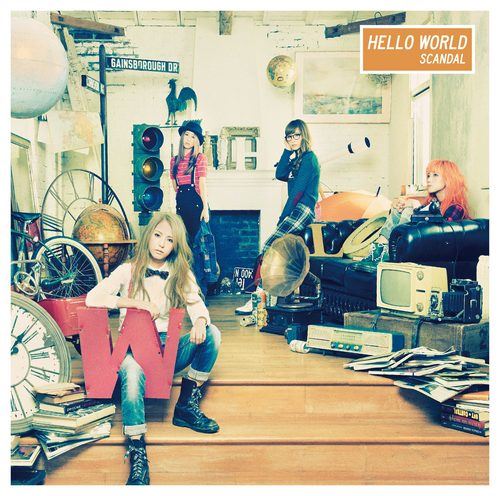 Scandal World Tour image
JAPANESE ROCK BAND SCANDAL ANNOUNCES 2015 "HELLO WORLD" WORLD TOUR
Group Supports Latest Album "Hello World" With North American Concerts In Chicago, Los Angeles And Anaheim As Well As Shows Set For Mexico, U.K., France, Germany, Singapore, Taiwan And Hong Kong

Epic Records Japan recording artist, SCANDAL, embarks next month on its most extensive world tour to-date in support of the release of the band's 20th single – "image" – from its latest album Hello World.
SCANDAL is one of Japan's most popular rock acts, capturing millions fans with an astute mix of power driven pop-rock. The all-girl, four-piece band also has garnered substantial fan bases across North America, Europe and Asia. Mixing the melodic styles of pop, rock and alternative music with hip fashion sensibilities and unstoppable girl star power, SCANDAL is at the forefront of the burgeoning "J-Pop" and "Japan Cool" global pop culture phenomenon.
The SCANDAL WORLD TOUR 2015 "HELLO WORLD" takes the band on its most extensive international tour to-date in support of their sixth studio album for Epic Records Japan, Hello World.
Beginning in April, SCANDAL will perform concerts in major cities worldwide including in the U.S., Mexico, U.K, France, Germany, Singapore, Taiwan and Hong Kong. In addition, a series of 31 live dates have already begun in major cities throughout Japan. Tickets for the North American shows are on-sale now. A select number of VIP tickets (including an artist meet & greet) are also available for each show.
SCANDAL North American Dates Include:
· May 16th Chicago, IL at the Rosemont Theatre
www.acen.org/content/scandal-anime-central-concert-information
· May 20th Mexico City, Mexico at La Plaza Condeza
www.elplaza.mx/evento/scandal or www.ticketmaster.com.mx
· May 22nd Los Angeles, CA at House of Blues Sunset Strip
· May 23rd Anaheim, CA at House of Blues Downtown Disney
www.ticketmaster.com/Scandal-tickets/artist/949557 or www.hob.com/losangeles
Complete SCANDAL 2015 "Hello World" world tour information is available at: www.sonymusic.co.jp/Music/Info/scandal/worldtour2015/
SCANDAL has released six studio albums and twenty singles since signing with Epic Records Japan in 2008 and have become one of Japan's most potent live rock acts. Each of the group's albums have placed among the top five in Japan's official album sales chart – Oricon – and 17 of the band's 20 singles released to-date have also placed in the Top 20 on the Oricon Singles Charts. SCANDAL's most recent full-length album, Hello World, was released on December 14, 2014.
SCANDAL formed in August, 2006 among four high school girls that attended the same vocal and dance school in Osaka, Japan. Taking their name from a shop sign that hung near the studio where they practiced in their early days, the band, which consists of Haruna (lead vocals, rhythm guitar), Mami (lead guitar, backing vocals), Tomomi (bass, lead vocals), and Rina (drums, keyboards, guitar, backing vocals), shared a mutual love of western rock bands and artists ranging from Green Day, Foo Fighters and Paramore to the pop styling of Taylor Swift and Pink. SCANDAL's dynamic mix of frenetic melody-driven energy mixed with smooth, pop-styled vocals have become the band's hallmark.
SCANDAL's music also has been featured in a host of TV shows and movies and the band are enthusiastic fans of anime and have had several songs prominently featured in popular series. The group's singles "Harukaze" and "Shunkan Sentimental" were featured as the opening theme songs for the anime series Bleach and Fullmetal Alchemist Brotherhood and most recently SCANDAL contributed the song, "Daybreak Meteor Shower," as the theme to the latest Pokémon feature film, Diance and the Cocoon of Destruction.
SCANDAL Official website: http://www.scandal-4.com/
Facebook: https://www.facebook.com/scandalofficial
YouTube: https://www.youtube.com/user/scandalSMEJ
About Epic Records Japan:
Epic Records Japan is one of the labels within Sony Music Labels Inc., a group company of Sony Music Entertainment (Japan) Inc. For additional information on Epic Records Japan artists, please visit: http://www.sonymusic.co.jp/Music/Info/epic-jp/jp/index.html.
Last Updated: August 31, 2023 - 08:12