JoJo's Bizarre Adventure: Part 3 – Stardust Crusaders Volume 5 manga review
By Leroy Douresseaux
December 1, 2017 - 23:01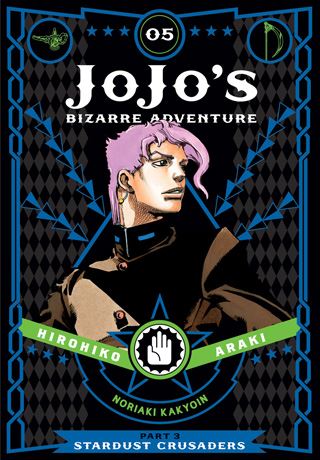 JoJo's Bizarre Adventures: Part 3 - Stardust Crusaders Volume 5 Graphic Novel cover image
Rated "T+" for "Older Teen"
VIZ Media is publishing the legendary Shonen Jump manga,
JoJo's Bizarre Adventure
, in English for the first time. The series is being repackaged in deluxe edition, hardcover, graphic novels with color pages and new cover art. Created by
Hirohiko Araki
, JoJo's Bizarre Adventure is a multi-generational tale that centers on the heroic Joestar family and their never-ending battle against evil.
JoJo's Bizarre Adventure begins with the "Phantom Blood" arc and continues in the third story arc, "Stardust Crusaders." This arc is set in 1989 and focuses on people with a power called a "
Stand
," which is an entity that is psychically generated by its creator, called a "
Stand user
." The battle of "Stand users" focuses on
Joseph Joestar
,
Jotaro
(his grandson and a high school student),
Kakyoin
(another student),
Polnareff
(a French swordsman), and
Mohammed Avdol
(an Egyptian fortune teller).
As
JoJo's Bizarre Adventure: Part 3 – Stardust Crusaders

, Vol. 5
(Chapters 55 to 69) opens, Kakyoin battles a "Stand" created by a "Stand user" who can enter people's dreams. The big problem is that no one can remember the presence of the "Stand" in his dreams after he awakens. Next, Polnareff meets
Cameo
, whom he thinks is a genie that can grant three wishes. Then, the heroic quintet takes on a powerful shape-shifting "Stand."
THE LOWDOWN:
The JoJo's Bizarre Adventure manga is like nothing that I have ever read before it, but it has been nearly a year and a half since I last read this series. VIZ Media recently sent me a review copy of a graphic novel in this series. Now, I am reminded of how much I like this manga that is a mixture of period action-adventure, horror, and occult-history.
JoJo's Bizarre Adventure: Part 3 – Stardust Crusaders, Volume 5
takes place late in the first third of the third story arc (which was 17 volumes long in the original Japanese publications). Yet, the story is not hard to follow because it is imaginative and straight forward. The heroes are good, and the "Stands" are really powerful, wily, dangerous, and fully capable of beating the heroes. This is pure escapism, a kind of pulp fiction born as a wild and woolly shonen manga, and it can be a fantastic read, as it is with this volume.
I READS YOU RECOMMENDS:
Fans of weird shonen manga will want to try the "Shonen Jump Advanced" series, JoJo's Bizarre Adventure: Part 3 – Stardust Crusaders.
A
9 out of 10
Rating: 9 /10
Last Updated: August 31, 2023 - 08:12