Webcomics / Johnny Bullet Comic
Johnny Bullet #87 Comic
By Hervé St-Louis
August 28, 2016 - 17:36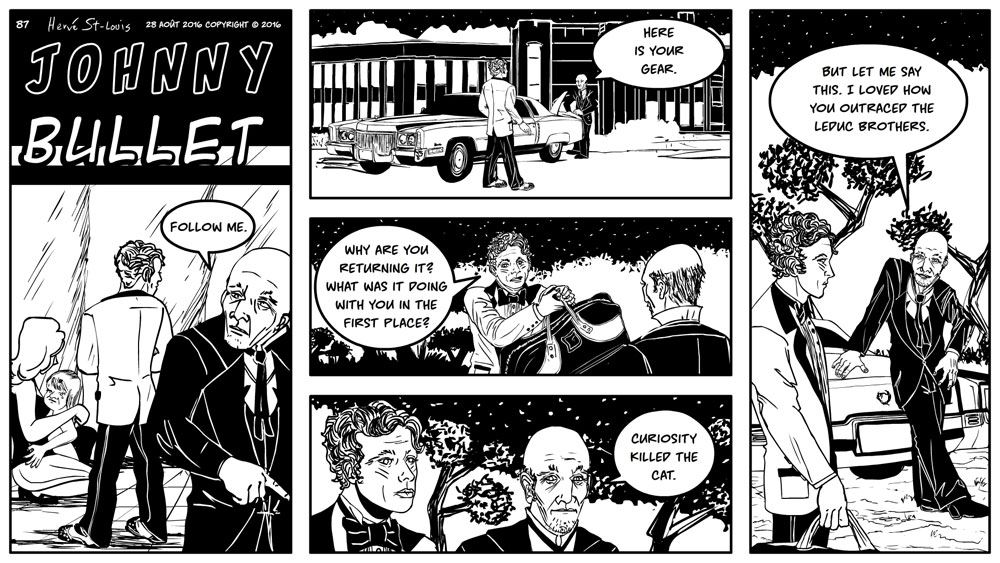 Subscribe to Johnny Bullet through RSS
Patreon


Subscribe to the Johnny Bullet Newsletter
Email me!
Written by : Hervé St-Louis
Pencilled by : Hervé St-Louis
Inked by : Hervé St-Louis
Letterered by : Hervé St-Louis

Hello. I had a lot of fun drawing the Adidas bag this week. Yeah, why focus on that. I had one as a kid in the 1980s. In fact, every boy had one in the 1980s. We all had that school bag. It was way too big for us but we all hauled that thing to school every day. It felt nostalgic to me to draw one of these. I wonder if Adidas makes these things today!
Next week is the last strip of the Cross Roads storyline, so don't miss it. It's an important strip too for Johnny. Well, the last few strips have been important.
Next there will be a new Johnny Bullet bonus page for my Patreon supporters that also wraps up a long time dangling plot while introducing new elements for the future. So if you don't support me on Patreon yet, you should!
Cheers and see you on Sunday, September 4, 2016.
Hervé
Last Updated: August 4, 2023 - 09:22
Join the discussion: