Webcomics / Johnny Bullet Comic
Johnny Bullet #74 Comic
By Hervé St-Louis
May 15, 2016 - 00:04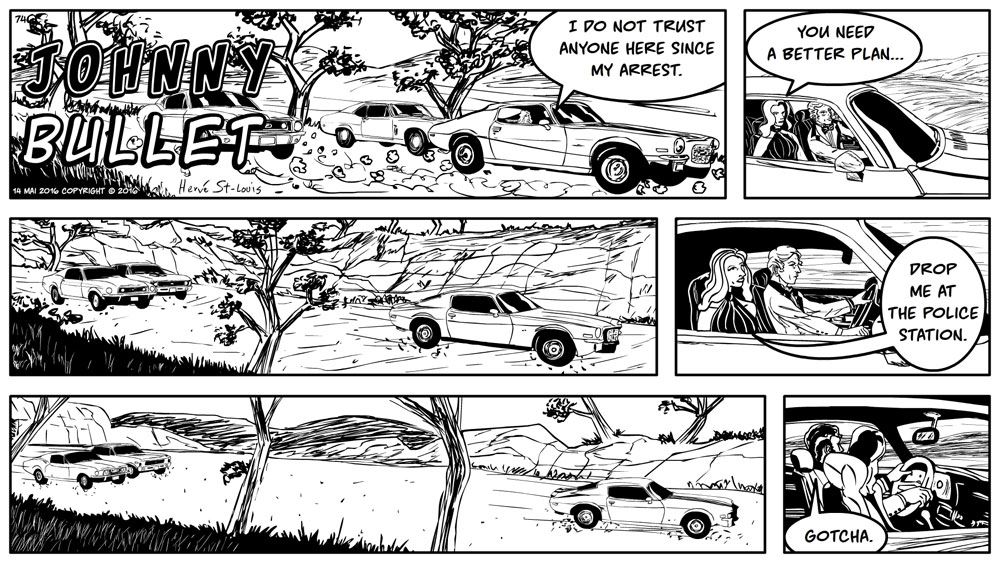 Subscribe to Johnny Bullet through RSS
Patreon


Subscribe to the Johnny Bullet Newsletter
Email me!
Written by : Hervé St-Louis
Pencilled by : Hervé St-Louis
Inked by : Hervé St-Louis
Letterered by : Hervé St-Louis

Hello. Sorry for the late comments this week. The page, however was not late for once. Yet, I made two substantial changes to this page after posting it last Sunday. I inverted the order of panels two, four, and six to improve t storytelling.
With the new layout, panel two appears to be a trucked in following panel one. Also, panel two, four, and six appear to flow better between one another and reinforce the parallel editing created in opposition to panel one, three, and five. You'll be able to see the original page when it appears in two weeks on
Tapastic
,
Comic Fury
, and The Drunk Duck, the mirror sites where I post
Johnny Bullet
.
See you next Sunday, May 22, 2016.
Cheers
Hervé
Last Updated: August 4, 2023 - 09:22
Join the discussion: