Webcomics / Johnny Bullet Comic
Johnny Bullet #73 Comic
By Hervé St-Louis
May 8, 2016 - 00:09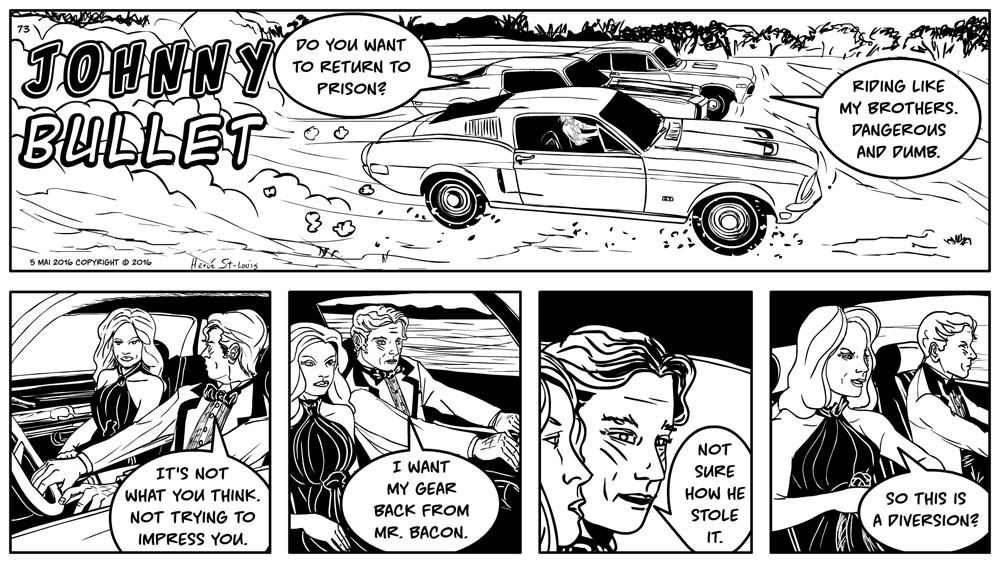 Subscribe to Johnny Bullet through RSS
Patreon


Subscribe to the Johnny Bullet Newsletter
Email me!
Written by : Hervé St-Louis
Pencilled by : Hervé St-Louis
Inked by : Hervé St-Louis
Letterered by : Hervé St-Louis

Today, I want to tell you about Johnny Bullet's car. He drives a 1970 Camaro Z28. it was the first version of the second styling of the Camaro, which was introduced by Chevrolet in 1965 as competitor to the Ford's Mustang. The second Camaro was larger but performed better.
The 1970 edition of the Camaro was the last one that was not affected by new air pollutant regulations in the United States and barely escaped the higher premiums of car insurers who were trying to stump out on street racing accident after a few activists started complaining about drag racing.
Will Johnny Bullet ever drive an original Camaro? Only time will tell!
I love car history! Do you?
See you next Sunday May 15, 2016.
Cheers
Hervé
Last Updated: August 4, 2023 - 09:22
Join the discussion: