Jamie Delano Talks Narcopolis
By Leroy Douresseaux
Dec 7, 2007 - 23:50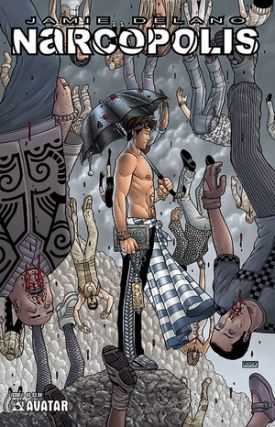 Jeremy Rock's cover for issue #1
After writing comic book stories in his native U.K., including Captain Britain for The Mighty World of Marvel and D.R. and Quinch and Tharg's Future Shocks for 2000 AD, Jamie Delano unleashed his potent and scary imagination on American audiences in 1988. He took John Constantine , a secondary but popular character from Alan Moore's revolutionary Swamp Thing comic book series, and defined that character in the series Hellblazer – fleshing out what had been a sly and wicked guest star into a fully-realized leading man.
After that, Jamie Delano quietly created a diverse body of work that was more Eurocomics than American mainstream. This included a 19-issue run on DC Comics' Animal Man, the mini-series World Without End (DC), and 2020 Visions (DC Vertigo). His 1996 Batman graphic novel, Batman: Manbat, an exceptional take on the Dark Knight, is required reading for anyone who is a fan of the character.
Now, Delano turns his eye towards modern times – taking a look at a society in which the citizens apparently have an infantile obsession with personal satisfaction and material comforts, while the government keeps them safe. Of course, there is always a rebel – a visionary who gets a peek behind the curtain, and that's where his troubles begin.
This new four-issue mini-series, entitled Narcopolis, is written by Delano, drawn by Jeremy Rock , and colored by Greg Waller . Avatar Press , which will publish the series beginning in February 2008, recently arranged for Jamie Delano to answer a few questions for this Bin Q&A:
CBB: How would you describe the basic plot, characters, and settings of Narcopolis?
DELANO: The setting for the series is Narcopolis, a "near-future," fortified, island city-state, which harbors a technologically advanced, complex but self-absorbed population. Citizens of the state exist and consume in relative comfort, protected from the ever-present threat of exterior violence -- which is now and then realized in the form of random terrorist outrage -- by an omnipresent security elite: T.R.U.S.T.
While the majority of the population appears incurious, content to work and enjoy " Mama Dream," a state-sanctioned recreational elixir, leaving the status quo unchallenged, the occasional citizen is disturbed by a vague suspicion that governing philosophy of Narcopolis may not be as benevolently maternal as is generally accepted.
Gray Neighbor is our "everyman." One day at work, as a production line worker in a Narcopolis munitions plant, he experiences a "vision" in which his imagination follows one of his products - a missile - to its lethally destructive target on the other side of the planet. Neighbor's reaction is disturbed enough to sound "anomaly alarms" in the monitoring suites of the security service, and see him identified as a potential threat worth closer examination.
Angel Love is the T.R.U.S.T. agent assigned to investigate Neighbor. Her investigation does not entirely clear its subject of the suspicion he is an agent of " BadEvil"... a carrier of " FearPure"; but it does lead to a sexual attraction, rapidly requited, and Neighbor's eventual recruitment as a T.R.U.S.T cop.
Inducted into the security service, Neighbor is offered a privileged perspective on the inner workings of the Narcopolitan system. Whether the apparent benefits of being an "insider" and his new appreciation of the state's ruthless power will bring him onside in the face of the inevitable, or whether his rebellious instinct will continue to seek the "truth" and find a means to oppose its horror, is the theme that powers the story.
I'll leave it there. Too much advance exposition runs the risk of confusing rather than intriguing the potential reader. Basically, the story is fast-moving and fun, with contemporarily relevant subtexts embedded to add-value for an interested reader.
CBB: What is the genesis of Narcopolis? Or what about this particular idea stood out and encouraged you to develop it?
DELANO: After the premature demise of my last major project for DC Comics ( Outlaw Nation - now available in a collected edition from Desperado Publishing), I felt a desire to diversify a little, both in the content of my work and its outlet. A timely approach from William Christensen at Avatar Press provided the opportunity, and liberty to develop a vaguely allegorical "sci-fi"/horror scenario. It took a little longer to realize than originally anticipated, but Narcopolis is the result.
CBB: What about Narcopolis do you think will be attractive to readers?
DELANO: Well, it certainly looks good. Jeremy Rock has invested a great deal of time and care in realizing a stunningly detailed vision of Narcopolis, adding immeasurable value to my script and scenario. Others may judge, in due course, the effectiveness of the story. Suffice to say, I had a lot of fun writing it: I hope that shows, and thus, that any reader who spends their dollars and time on Narcopolis is intrigued and entertained enough to feel their investment dully rewarded.
CBB: How did having Jeremy Rock as the artist influence, shape, or even inspire what you did with this concept?
DELANO: While the scenario, plot, characterization and dramatic direction of Narcopolis are ultimately my responsibility, Jeremy's whole-hearted embracing of the themes and vision of the story, and his dedication and accomplishment in realizing my madness graphically... through attention to detail, incidental embellishment, storytelling innovations. etc., makes his creative contribution to the project (easily) equivalent.
CBB: You defined the character and established the foundation for John Constantine: Hellblazer, and your work probably deserves the lion's share of the credit for the fact that the series is approaching a 250th issue. Do you take pride in that, or are you one not to dwell on past works?
DELANO: I'm certainly not ashamed of it... although I really only picked up Moore's prototype character (John Constantine) and set him off on his journey. Eighty-five percent of Hellblazer issues have been the responsibility of other minds, and I've written lots of other stuff since then. I'd have to confess though, that I've rarely resisted the opportunity to slip on the old bastard's shoes when it has arisen from time to time and, uncomfortable though a shuffle in them can sometimes be, it's usually rewarded. My latest perambulation should see print in the spring, to coincide with the character's 20th anniversary. It's an OGN, illustrated by Jock, entitled Pandemonium.
Visit avatarpress.com for more information about Narcopolis and other series. Desperado Publishing has a store at its website, desperadopublishing.com , which allows buyers to purchase Outlaw Nation directly from the company.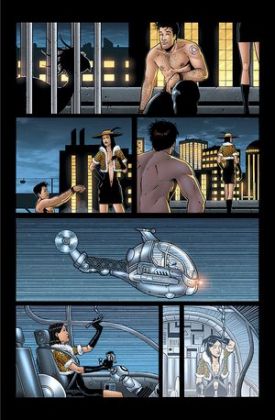 Narcopolis #1, pg. 18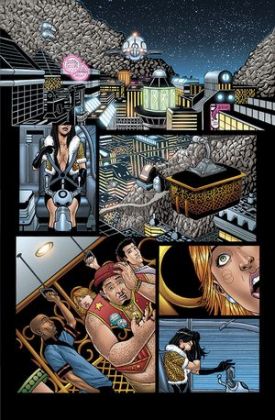 Narcopolis #1 pg. 19
Last Updated: Jun 26, 2018 - 9:28