Itsuwaribito: Volume 6
By Leroy Douresseaux
August 15, 2012 - 13:15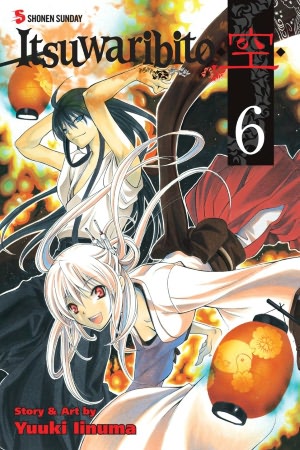 Itsuwaribito Volume 6 cover image is courtesy of barnesandnoble.com.
Rated "T+" for "Older Teen"
When he was a small child, Utsuho Azako told the truth, directly resulting in the destruction of the village of orphans where he lived. Now, Utsuho is an unrepentant troublemaker and a self-professed "Itsuwaribito," a crook that practices all illicit trades. Still, the teen wants to help people. Traveling with his talking tanuki, Pochi; a young physician who hates liars, Dr. Koshiro Yakuma; and the refugee, Neya Multo, Utsuho helps others by telling lies.
Itsuwaribito, Vol. 6 opens with Utsuho and company solving the mystery of the village of Chikushishima and its murderous dolls. They also learn the secrets of the village's young sentry, Yo-Yo Hatobaki, and the princess named Kazura. Next, the heroes continue their quest to find the fabled treasures known as the Kokonotsu. They meet the mysterious Hikae Nibyo, the guardian of the treasure, the Eyestone gem. They need the gem to continue their quest, and they are surprised to find that Nibyo is eager to give them the gem. Why is he so eager to give them the gem?
THE LOWDOWN: Although it is rated for older teens, the Itsuwaribito manga is like a samurai/ronin comedy for young readers. Creator Yuuki Iinuma offers martial arts action and slapstick comedy. The series is occasionally dark, but sometimes the darkness gives way to comedy. The Chikushishima story arc started off with shocking violence, but it wraps up like a romantic comedy. Blood and laughs: it's actually a good read.
POSSIBLE AUDIENCE: Fans of ronin-type comedies may enjoy Itsuwaribito.
Rating: B+ /10
Last Updated: August 31, 2023 - 08:12