Itsuwaribito: Volume 4
By Leroy Douresseaux
December 12, 2011 - 12:39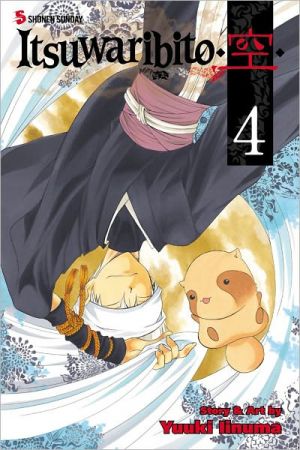 Itsuwaribito Volume 4 cover image is courtesy of barnesandnoble.com.
Rated "T+" for "Older Teen"
When he was a small child, Utsuho Azako told the truth, which resulted in the destruction of his home. The irascible teen has grown into an unrepentant troublemaker. He is a self-professed "Itsuwaribito," a crook of all illicit trades, but Utsuho still wants to help people. Traveling with his talking tanuki, Pochi; a young physician who hates liars, Dr. Koshiro Yakuma; and the refugee, Neya Multo, Utsuho helps others by telling lies.
As Itsuwaribito, Vol. 4 opens, Utsuho and the gang take on a sect leader who seems to be robbing his followers blind, but is he really a culprit. Later, they encounter two other itsuwaribito, and these connivers target the naïve Dr. Yakuma as a victim. Next, the quartet travels to Natsumura, a town of craftsmen who make explosives and fireworks. There, Utsuho reunites with Tenka, a boy who once lived at the orphanage with him, but the reunion coincides with a series of brutal murders.
THE LOWDOWN: Sometimes, it can take a few volumes for me to get a feel for a manga. This is the case with Itsuwaribito, which I see as something like a samurai/ronin comedy. Creator Yuuki Iinuma offers lots of convincing martial arts, all of it as good as what is found in the best shonen battle manga.
However, the series is rather heartfelt. Like a comic knight errant, the lead character, Utsuho, travels the countryside righting wrongs. He is part anti-hero and part rogue with a heart of gold, and along the way, his adventures are snappy little morality tales that are smart enough to wait to reveal the lessons near the end of the story. Itsuwaribito is a comic adventure that refuses to be just comic entertainment.
POSSIBLE AUDIENCE: Fans of ronin-type comedies may like Itsuwaribito.
B+
Last Updated: August 31, 2023 - 08:12