Itsuwaribito: Volume 2
By Leroy Douresseaux
Apr 5, 2011 - 9:08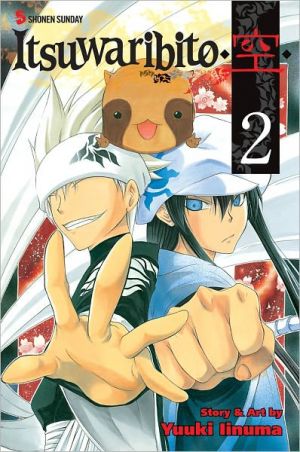 Itsuwaribito Volume 2 cover image is courtesy of barnesandnoble.com.
Rated "T+" for "Older Teen"
When Utsuho Azako was a small child, he told the truth and the result was the destruction of his home. Now, the irascible teen is an unrepentant troublemaker, a self-professed "Itsuwaribito," a crook of all illicit trades. However, Utsuho was raised in a village for orphans where the monk, Osho-sama, somehow inspired him to help people. Traveling with his talking tanuki, Pochi, Utsuho helps others by telling lies.
As Itsuwaribito, Vol. 2 opens, Dr. Yakuma tries to part ways with Utsuho and Pochi. However, Yakuma encounters a psychotic man who hates liars and who can psychically tell when someone is lying. Now, Yakuma needs Utsuho's help, but the man who hates liars may be as skilled a warrior as Utsuho and twice as devious.
Then, Utsuho and Pochi follow Yakuma on the young doctor's quest to find Nadeshiko Island. It is an island prison for itsuwaribito, but it is also said to be the home of powerful medicines. With what awaits them on the island, the trio may need powerful medicine for themselves.
THE LOWDOWN: After reading the first volume, I thought Itsuwaribito was a good idea. Although the execution was good, it didn't strike me a standout title. After reading the second volume, it is standing out a bit more. This is a martial arts/ninja fight comic book with a rascally lead character, surrounded by patient supporting characters/friends – typically shonen. The villains are colorful, but are also quite edgy and dangerous. You will certainly believe that these guys are bloodthirsty murderers. Creator Yuuki Iinuma draws this comic in an art style that is smooth and flowing, embodied by all the drapery the characters wear.
POSSIBLE AUDIENCE: Fans of Shonen Jump fight comic books will like the Shonen Sunday title, Itsuwaribito.
A-
Last Updated: Jun 26, 2018 - 9:28