Comics / Comic Reviews / More Comics
Jeffrey Brown: Incredible Change-Bots
By Leroy Douresseaux
September 2, 2007 - 18:28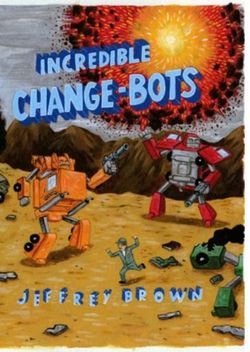 Thanks to Amazon.com for the image.
Incredible Change-Bots
is a new graphic novel from indie graphic novelist and cartoonist,
Jeffrey Brown
(
Feeble Attempts
). This, Brown's first full color graphic novel, is fan fiction and a love letter to the Transformers, in particularly their 1980's incarnation.
On the planet, Electronocybercircuitron, two factions of giant transforming, shape shifting, changing robots – the Incredible Change-Bots – wage war. There are the ostensible protagonists, the Awesomebots, and the self-interested, Fantasticons, whose aggressiveness mark them as the adversaries. Big Rig leads the Awesomebots, and Shootertron leads the Fantasticons. Divided by philosophies, the two groups go to war over a disputed election, and promptly destroy Electronocybercircuitron.
The Awesomebots and the Fantasticons band together to escape their ruined home world, but in-fighting during the journey cause them to crash land on Earth, where they continue their war. A small group of humans, including the mechanic James "Monkeywrench" Hawking, his son, Jimmy Junior and General Deeyer, takes sides, as the warring robots fight over, among other things, an energy source. It looks as if their dispute will send our world to ruin.
Incredible Change-Bots isn't completely a parody, but it is a tribute that reeks of nostalgia. That's not necessarily a bad thing if you're a fan of both Jeffrey Brown's style of cartooning and storytelling, as well as of the Transformers. It may be necessary to like Brown in order to enjoy this, but it's also hard to imagine fans of the old Transformers cartoons disliking this. Behind the nostalgia, however, is a moral fable about the futility of destruction initiated over misunderstandings. One gets the idea that if the two robot factions talked to one another, their problems wouldn't exist and they could do great things together. And it's fun to see Brown's work in full color.
B
Incredible Change-Bots and other Jeffrey Brown books and comix are available at his publisher's website, topshelfcomix.com, or find a comic book shop at the Comic Shop Locator Service by calling 1-888-COMIC BOOK.
Last Updated: August 31, 2023 - 08:12