Comics / Comic Reviews / Comic Strips
Image Comics to Publish "On the Line"
By The Editor
October 14, 2010 - 09:15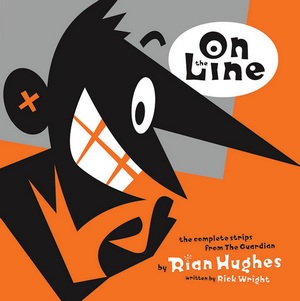 On the Line cover image
GRAPHIC GUARDIAN
RIAN HUGHES' groundbreaking strip for The Guardian collected for the first time this December
Celebrated designer and illustrator RIAN HUGHES first explored the possibilities of Adobe Illustrator's vector drawing tools with "On the Line," a unique newspaper strip written by Rick Wright that ran in The Guardian, one of the United Kingdom's largest daily newspapers. This December, the strip gets its first-ever collection with ON THE LINE, a gorgeous new hardcover from Image Comics.
With ON THE LINE, Hughes forged a modern design-savvy approach that still tips the hat to classic UPA cartoons and the angular work of Gene Dietch. Bold, graphic and expressive, this collection brings together every strip for the very first time, including some unpublished rarities, in a neat hardback designed by Hughes in a pocket-sized format.
ON THE LINE (OCT100472), a 48-page black-and-white pocket-sized hardcover collecting celebrated designer Rian Hughes' newspaper strips for The Guardian, will be in stores December 1, 2010, for $12.99. YESTERDAY'S TOMORROWS TP (SEPT100434), a 264-page full-color anthology collecting several stories illustrated by Hughes, will be in stores November 3, 2010.
Some praise for Rian Hughes:
"Rian Hughes, the man who's done more for comic book design than anybody else, ever." - www.talkaboutcomics.com
"One of the most successful and prolific designer/illustrators of the past 20 years" - Roger Sabin, Eye magazine
"Try a death tango in the upper levels of the stratosphere with smoky Cyrillic logos wrapped around your fuselage and raw Letraset moire crackling away in the rearview and then maybe you'll earn my respect the way Rian Hughes earned my respect long ago." - Grant Morrison

Last Updated: January 24, 2022 - 11:00