Image Comics Announces Return of Bomb Queen
By The Editor
September 2, 2010 - 13:04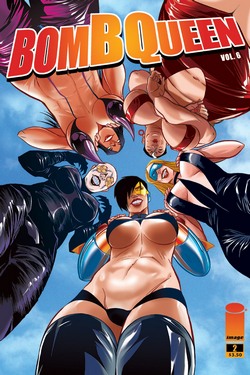 Bomb Queen VI #2 cover image
ALL HAIL THE QUEEN
Bomb Queen makes her irreverent return to Image Comics this fall
Just when you thought the streets were safe, Bomb Queen is back to make them dark and dangerous! Bomb Queen takes on the forces of good, confronting the president of the United States himself in BOMB QUEEN VI #2, in stores on November 24, 2010.
"Who better to take on the leader of the free world than Bomb Queen?" asks creator Jimmie Robinson. "She's the antithesis of Barack Obama. Bomb Queen will be the worst adversary the Obama administration ever faces!"
In BOMB QUEEN VI, Bomb Queen returns with new twists and mayhem when President Obama attempts to shut down her city of crime. Can Washington D.C. put the evil Queen back in the bottle, or will this be Obama's first comic book defeat? Don't miss the shocking reveal at the end of this issue!
BOMB QUEEN VI #2 (of 4), a 32-page full color comic book, will be in stores November 24, 2010. Catch up with the nefarious adventures of Bomb Queen with BOMB QUEEN OMNIBUST HC (MAY090313), BOMB QUEEN TP VOL 1: WOMAN OF MASS DESTRUCTION MAY061724, BOMB QUEEN TP VOL 02: QUEEN OF HEARTS (MAY071859), BOMB QUEEN TP VOL 03: BOMBSHELL (NOV072023), BOMB QUEEN TP VOL 04: SUICIDE BOMBER (FEB082126), and BOMB QUEEN TP VOL 05 BOMBASTIC (JAN092414).

Last Updated: February 5, 2023 - 09:06