Image Comics Announces Name Change for Series
By The Editor
July 2, 2010 - 15:01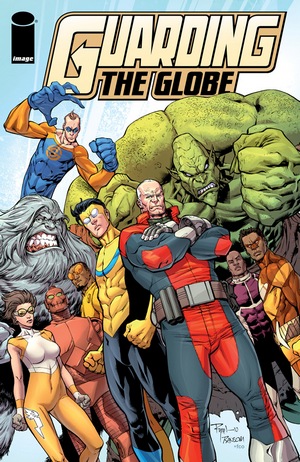 Guarding the Globe promo image.
WHAT'S IN A NAME?
Guardians of the Globe miniseries now titled GUARDING THE GLOBE
Image Comics announces a name change for the six-issue Guardians of the Globe miniseries: GUARDING THE GLOBE.
The first issue of the six-issue miniseries, cowritten by Robert Kirkman (INVINCIBLE, THE WALKING DEAD) and Benito Cereno (INVINCIBLE PRESENTS: ATOM EVE & REX SPLODE, HECTOR PLASM) and illustrated by newcomer Ransom Getty, will be in stores in August.
In GUARDING THE GLOBE, heroes both familiar and new struggle to protect Earth in Invincible's absence. As the Viltrumite War rages on within the pages of INVINCIBLE, the ranks of the Guardians of the Globe are suddenly depleted. The world is in danger, and the team is in search of new blood. It's the biggest recruitment drive since Omni-Man slaughtered the original members. But will it be in time to stop The Order? This series is a can't-miss action extravaganza, with one-page backups by Chris Giarrusso (G-MAN, Mini-Marvels) featuring the Guardians of the Globe that never were: Invincible, Spawn, Rick Grimes, Barack Obama, and Gary Popper!
GUARDING THE GLOBE #1 (of 6), a 32-page full-color comic featuring a backup story by Chris Giarrusso, will be on sale for $3.50 on August 25, 2010.
Last Updated: February 5, 2023 - 09:06