Image Comics Announces "Sullivan's Sluggers"
By The Editor
May 24, 2010 - 14:31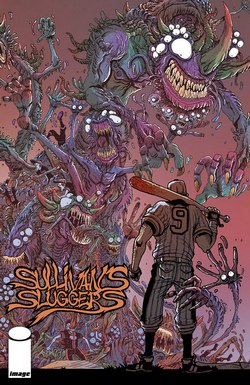 Sullivan Sluggers cover image
AMERICA'S FAVORITE PASTIME BECOMES A NIGHTMARE
Mark Andrew Smith and James Stokoe hit one out of the park with SULLIVAN'S SLUGGERS
Image Comics announces the release of SULLIVAN'S SLUGGERS, a powerful collaboration between writer Mark Andrew Smith and artist James Stokoe (ORC STAIN). Smith, winner of a Harvey Award for co-editing POPGUN 1, is also the writer behind the offbeat favorites AMAZING JOY BUZZARDS, AQUA LEUNG and NEW BRIGHTON ARCHEOLOGICAL SOCIETY.
"Sullivan's Sluggers is a great blending of sports comics and horror," says Smith. "It was great to do a story about a baseball team while also at the same time working in the horror genre. I think this book will simultaneously resonate with sports and baseball fans as well as horror fans, making it a perfect storm."
"The horror genre has played a hugely influential role in comics, so it's been really cool to dip my toes in that pool," adds Stokoe. "Mark's cranked out a really fun script that puts a lot of emphasis on stuff that can only be done in comics and has stuffed panels with crazy amounts of gore and action. Our unsung hero, Rodrigo Aviles, is laying down some really vivid and imaginative colors as well. Lots of red splatter and juicy monster gizzards!"
"From THE AMAZING JOY BUZZARDS to POPGUN, Mark Smith has long been one of Image's most imaginative and prolific writers," observes Image Publisher Eric Stephenson. "He has a great eye for artistic talent and a head full of ideas that in many ways are ahead of their time. Aided and abetted by the incredible James Stokoe, SULLIVAN'S SLUGGERS is easily one of his best projects yet. If you haven't been exposed to the madcap wonder of Mark's work, this is the place to start!"
SULLIVAN'S SLUGGERS: When Sullivan's bedraggled minor league sluggers accept an invitation to play an out-of-town game, they have no idea their small-town destination is cursed. When the sun goes down after the 7th inning stretch, the dysfunctional teammates find themselves fighting for their lives against a town crawling with flesh eating monsters.
SULLIVAN'S SLUGGERS, an all-new 176-page full-color trade written by Mark Andrew Smith and illustrated by James Stokoe and published by Image Comics, will be available in stores on August 11, 2010, for $16.99.
Image Comics is a comic book and graphic novel publisher founded in 1992 by a collective of best-selling artists. Image has since gone on to become one of the largest comics publishers in the United States. Image currently has five partners: Robert Kirkman, Erik Larsen, Todd McFarlane, Marc Silvestri and Jim Valentino. It consists of four major houses: Todd McFarlane Productions, Top Cow Productions, Shadowline and Image Central. Image publishes comics and graphic novels in nearly every genre, sub-genre, and style imaginable. It offers science fiction, romance, horror, crime fiction, historical fiction, humor and more by the finest artists and writers working in the medium today. For more information, visit www.imagecomics.com.
Last Updated: February 5, 2023 - 09:06