Image Comics Announces Second Wave of "Image Firsts"
By The Editor
June 17, 2010 - 12:12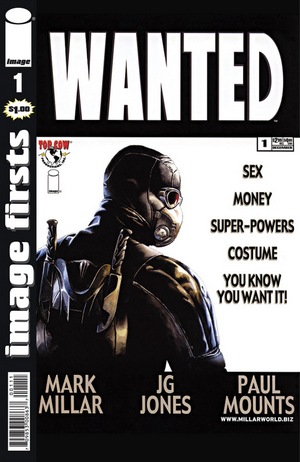 Image Firsts: Wanted #1 cover image
TRY SOME, BUY SOME
Image Comics reprints the first issue of classic series in IMAGE FIRSTS: WAVE TWO
This Fall, Image Comics is re-presenting 10 first issues as an introduction to some of its most acclaimed titles. Each debut acts as a perfect primer to its corresponding ongoing series and collected editions. Starting September 1, 2010, and continuing through November, each reprinted first issue will be available for only $1.
"Response to Image Firsts has been phenomenal," exclaims Image Publisher Eric Stephenson. "So, we are expanding the line with a second wave of IMAGE FIRSTS. Image Firsts is a fantastic way for readers to discover new titles and for retailers to introduce customers to Image's unsurpassed backlist."
IMAGE FIRSTS: WAVE 2 shipping this September include:
IMAGE FIRSTS: THE DARKNESS #1
story GARTH ENNIS
art & cover MARC SILVESTRI
SEPTEMBER 1
IMAGE FIRSTS: LIBERTY MEADOWS #1
story FRANK CHO
art & cover FRANK CHO
SEPTEMBER 8
IMAGE FIRSTS: WANTED #1
story MARK MILLAR
art & cover J.G. JONES
SEPTEMBER 15
IMAGE FIRSTS: I KILL GIANTS #1
story JOE KELLY
art & cover J.M. KEN NIIMURA
SEPTEMBER 22
IMAGE FIRSTS: MAGE #1
story MATT WAGNER
art & cover MATT WAGNER
SEPTEMBER 29
Discover some of Image Comics' best series in September with IMAGE FIRSTS: WAVE TWO, re-releasing the first issue of THE DARKNESS, LIBERTY MEADOWS, WANTED, I KILL GIANTS and MAGE for only $1.
Be on the lookout for more IMAGE FISTS in October and November!
Last Updated: February 5, 2023 - 09:06