Automatons - Facets Video
By Al Kratina
February 25, 2008 - 19:59
Automatons
2006, USA
Directed by James Felix McKenney
Written by James Felix McKenney
Produced by James Felix McKenney, Lisa Wisely
Starring Christine Spencer, Angus Scrimm, Brenda Cooney, Jennifer Boutell
Genre: Science fiction
Rating: Not Rated
DVD Distributor: Facets Video
Website: http://www.monsterpants.net/automatons/
Running Time: 83 minutes
To many males, robots in movies are like breast implants on a porn star: the bigger they are, the less likely we are to care if everything else is brain-damaged. However, neither robots nor breast implants are miracle cures. Not even machine parts could save the new Bionic Woman TV series from degenerating into a tiresome Rock 'Em Sock 'Em match, and nothing Victoria Beckham stuffs in her chest will make her look any less like a bronze-age axe blade lashed onto a bundle of tree branches.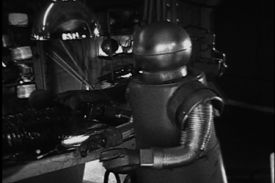 Thankfully, the robots in Automatons, though plentiful, are but icing on the film's cake. The aggressively inventive movie is a textbook example of how imagination, ingenuity, and an obsessive love of White Zombie videos can overcome a low budget. In a post-apocalyptic future, a young woman lives alone in an underground bunker, accompanied only by pre-recorded transmissions from her mentor, played to perfection by Phantasm's Angus Scrimm, and an army of robots seemingly constructed from Erector sets and buckets. The unnamed woman is single-handedly continuing the war that destroyed her country, blindly launching attacks against an equally devastated enemy. Essentially a thinly veiled attack on American foreign and domestic policy, Automatons avoids slipping into a semi-literate Green Day manifesto through writer-director James Felix McKenney's singular vision, which elevates the film to the realm of fantasy, where allegory works best.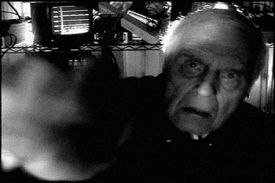 Shot on 8mm film, Automatons possesses a dream-like quality, provided you dream in scratchy black and white. Drifting audio and shaky images enhance this atmosphere, perhaps inadvertently, and the cumulative effect is that of a 1940s sci-fi serial having a nightmare. The robots, clunky hybrids of early Iron Man suits and vintage Black & Decker power tools, create a retro vibe that contrasts nicely with the modern torture porn violence that drenches the final moments of the film in fluid. Most impressively, Christine Spencer, who plays The Girl, holds her own amidst the art direction and the robots, and never lets the inherent artifice of the film overwhelm her performance. Though if the robots had breast implants, it might have been a different story.
Facets' DVD release contains a behind the scenes featurette, an interview with Angus Scrimm, camera and effects tests, and the original trailer.
Rating: 9 on 10
Last Updated: January 24, 2022 - 11:00