Hunter x Hunter: Volume 29 manga review
By Leroy Douresseaux
January 18, 2013 - 10:58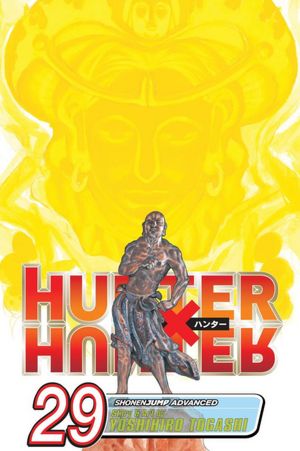 Hunter x Hunter Volume 29 cover image is courtesy of barnesandnoble.com.
Rated "T+" for "Older Teen"
Hunters are a special breed devoted to tracking down priceless items, treasures, mystical places, magical beasts, and even other people. Prospective Hunters must take a highly selective licensing exam. Only 1 in 100,000 can pass this grueling qualification exam, which will give them access to restricted areas and amazing stores of information. Gon Freecss dedicates himself to being a great Hunter like his father, Ging Freecss.
In Hunter × Hunter, Vol. 29 (entitled Memory – Chapters 301 to 310), the "Chimera Ant Story Arc" continues. The King, brutal ruler of the Chimera Ants, rises from his most recent battle even stronger, but an explosion has left him with a damaged memory. His royal guards, Shaiapouf ("Pouf") and Youpi, merged with the King and made him more powerful than ever.
Pouf, however, plots to murder, Komugi, the human girl for whom the King has deep feelings. The heroes race to save Komugi, even as she resists their efforts because she sees them as enemies. Meanwhile, Gon expends all his Nen power to grow stronger, but this desperate gambit comes with a high cost.
THE LOWDOWN: I've called the Hunter × Hunter manga, a "Bizarro" Naruto. Like Naruto, Hunter × Hunter offers a seemingly non-stop battle between the heroes and their peculiar adversaries. Whereas Naruto is epic, however, Hunter × Hunter does conflict, battles, and war on a smaller scale. The narrative, setting, and characters are idiosyncratic, compared to Naruto, which has a seemingly limitless supply of inventive and imaginative elements, but not a lot that is extraordinarily weird.
The art is highly kinetic and the graphical storytelling is like a chameleon. It constantly changes from panel to panel and page to page when a different mood, level of power, conflict, character, setting, etc. requires it. I'm liking this more and more, and I think that readers who give it chance are in for a real treat.
POSSIBLE AUDIENCE: Readers looking for off-beat shonen will want to try the Shonen Jump Advanced title, Hunter × Hunter.
Rating: B+ /10
Last Updated: August 31, 2023 - 08:12