House of Five Leaves: Volume 8 manga review
By Leroy Douresseaux
September 25, 2012 - 15:41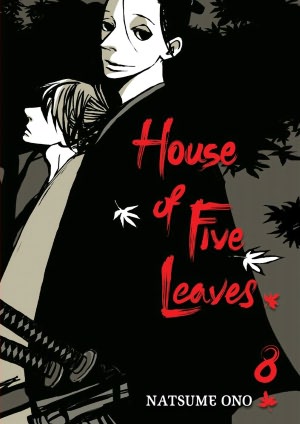 House of Five Leaves Volume 8 cover image is courtesy of barnesandnoble.com.
Rated "T+" for "Older Teen"
Masanosuke "Masa" Akitsu is a ronin (an unemployed samurai). Shy and timid, Masa's nature does not make this loyal and skilled swordsman an ideal bodyguard. Desperate for money to send home to his family, Masa agrees to become a bodyguard for Yaichi, the charismatic leader of an Edo-based kidnapping ring known as "Five Leaves."
House of Five Leaves, Vol. 8 opens with "During the Rain," which finds Masa and his estranged brother, Bunnosuke, coming to terms with the state of their relationship and with their respective roles in their family. Will Bunnosuke's scheming and bribery for promotion ruin both men?
Then, the final story arc, "The Five Leaves," begins. Yaichi is planning to disband the Five Leaves. Meanwhile, Jin, a member of Yaichi's former gang, Bakuro, spills the old gang's secrets to Yagi Hiezaemon, the superintendent of the Machitaka (the Edo-era analogue of a uniformed police force). As both the law and his past close in on Yaichi, what will be his next move, if he makes any at all? Masa, however, will not allow the quasi-family unit that is the Five Leaves to fall apart without a fight.
THE LOWDOWN: As I've written in my previous reviews of the House of Five Leaves manga, the series emphasizes character drama. Creator Natsume Ono populates the series with several intriguing characters. Some are interesting because of their personalities (Masa's cunning brother, Bunnosuke), others because of what they are (like Yagi's assistant, Tachibana) or how they moved the story forward (the quasi-double-agent, Ginta).
What I can say about House of Five Leaves with certainly is that by the end of the series, Ono made the characters complete and whole, even the minor ones. That is what makes the end of the series sad. It has a happy ending, but I don't want to say goodbye. You won't, either.
POSSIBLE AUDIENCE: Readers who enjoy Japanese period drama will want to try at least one of the eight volumes of House of Five Leaves.
Rating: A /10
Last Updated: August 31, 2023 - 08:12