House of Five Leaves: Volume 7 review
By Leroy Douresseaux
June 24, 2012 - 09:00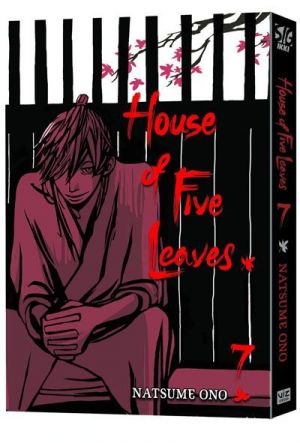 House of Five Leaves Volume 7 3D cover image
Rated "T+" for "Older Teen"
Masanosuke "Masa" Akitsu is a ronin (an unemployed samurai). His shy and timid nature makes this loyal and skilled swordsman not ideal as a bodyguard. Desperate for money to send home to his family, Masa agreed to become a bodyguard for Yaichi, the charismatic leader of an Edo-based kidnapping ring known as "Five Leaves."
House of Five Leaves, Vol. 7 opens with "The Drifter." This is the story of Yaichi and how he became a member of a murderous kidnapping ring called, "Bakuro." In "A Long Rain," Yaichi's former gang mates close in on him. Meanwhile, Masa, having to deal with both Yaichi's problems and with the troubles of his own brother, Bunnosuke, seems to have a change in personality.
THE LOWDOWN: As I've written in previous reviews, the House of Five Leaves manga emphasizes character drama. Creator Natsume Ono has mostly used the lead character Masa to reveal the personalities and goals of the other characters. With that in mind, Vol. 7 was a delight to read, because Masa begins to step forward; as he begins to assert himself, he becomes much more interesting as a character. In fact, the story becomes also quite peppery, which is a nice antidote to the disjointedness of this volume's early chapters. The violent nature of "The Drifter" is antithetical to House of Five Leaves' rather smooth and relaxed tone. The new Masa is more threatening, but that is depicted without as much violence as in Yaichi's story.
POSSIBLE AUDIENCE: Readers who enjoy Japanese period drama will like House of Five Leaves.
Rating: B+ /10
Last Updated: August 31, 2023 - 08:12