House of Five Leaves: Volume 6
By Leroy Douresseaux
March 9, 2012 - 11:39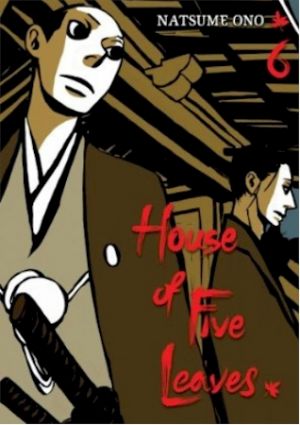 House of Five Leaves Volume 5 cover image
Rated "T+" for "Older Teen"
Because of his shy and timid nature, Masanosuke "Masa" Akitsu could not keep a job, so this loyal and skilled swordsman became a ronin (an unemployed samurai). Desperate for money to send home to his family, Masa agreed to become a bodyguard for Yaichi, the charismatic leader of an Edo-based kidnapping ring, "Five Leaves."
In House of Five Leaves, Vol. 6, Masa continues to learn more about Yaichi's past, but he decides not to share those secrets with the rest of Five Leaves. Masa is reunited with his younger brother, Bunnosuke, who is now head of the family, but the reunion is a tense one, as Bunnosuke holds Masa in contempt. Also, we discover the traumatic event in Yaichi's past that changed him.
THE LOWDOWN: It continues to emphasize character drama, but the House of Five Leaves manga does not always need violence to create intense conflict. Creator Natume Ono is also good at bringing the past back to haunt her characters, binding them to decisions they may not want to make. As Five Leaves' membership begins to fray, this series promises many more surprises – more reasons to keep reading.
POSSIBLE AUDIENCE: Readers who enjoy Japanese period drama will like House of Five Leaves.
B+
Last Updated: August 31, 2023 - 08:12