House of Five Leaves: Volume 5
By Leroy Douresseaux
December 16, 2011 - 09:20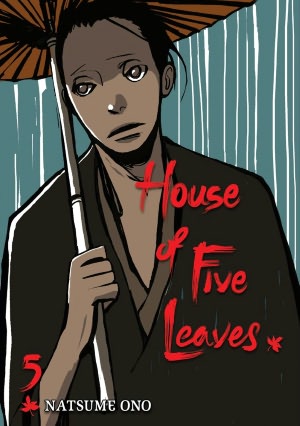 House of Five Leaves cover image is courtesy of barnesandnoble.com.
Rated "T+" for "Older Teen"
Masanosuke "Masa" Akitsu cannot keep a job because of his shy and timid nature, so this loyal and skilled swordsman is a ronin (an unemployed samurai). Desperate for money to send home to his family, Masa agrees to become a bodyguard for Yaichi, the charismatic leader of an Edo-based kidnapping ring, "Five Leaves."
In House of Five Leaves, Vol. 5, the policeman, Yagi Heizaemon, continues to dig into Yaichi's past, and Yaichi knows it. Masa finds himself an integral part of Yagi's quest, as the "Machikata" drops hints and clues about the boss of the Five Leaves. Meanwhile, the Five Leaves prepare for their final kidnapping, and Masa's ungrateful brother, Bunnosuke, wonders about the money his brother is sending home.
THE LOWDOWN: While House of Five Leaves emphasizes character drama built around violence and conflict, the series offers lots of intrigue – the soap opera variety. This volume, in particular, seems gossipy. Every meeting of two or more characters is an opportunity to whisper innuendo, and it seems as if there is always someone nearby listening in secret. Perhaps, this is a new genre – soap and sword.
POSSIBLE AUDIENCE: Readers who enjoy Japanese period drama will like House of Five Leaves.
A-
Last Updated: August 31, 2023 - 08:12