House of Five Leaves: Volume 4
By Leroy Douresseaux
September 18, 2011 - 08:20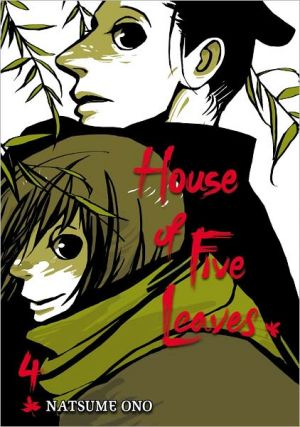 House of Five Leaves Volume 4 cover image is courtesy of barnesandnoble.com.
Rated "T+" for "Older Teen"
A loyal and skilled swordsman, Masanosuke "Masa" Akitsu cannot keep a job because of his shy, timid nature; thus, he is a ronin (an unemployed samurai). He is hungry and desperate for money to send home to his family. Masa agrees to become a bodyguard for Yaichi, the charismatic leader of an Edo-based kidnapping ring, "Five Leaves."
In House of Five Leaves, Vol. 4, the Five Leaves meet the mysterious Ginta, a self-styled negotiator. After discovering the existence of the Five Leaves, he wants to act as an intermediary between the Leaves and the families of people the Leaves kidnap. Ginta makes it known that he has another option for employment, the vicious and murderous Night Crows, another kidnapping ring. Meanwhile, figures from Yaichi's past come looking for him.
THE LOWDOWN: While the heart of House of Five Leaves is character drama, it is not as if this manga, from creator Natsume Ono, is without violent conflict and intense interpersonal struggles. This volume, which finds so much revealed about Yaichi and the addition of a new character that is devious (to say the least), brings hot-blooded drama to the fore. This samurai drama has potboiler written all over its historical fiction conceit.
POSSIBLE AUDIENCE: Readers who like all things samurai and/or critically acclaimed comics will like House of Five Leaves.
A-
Last Updated: August 31, 2023 - 08:12