House of Five Leaves: Volume 3
By Leroy Douresseaux
April 15, 2011 - 09:36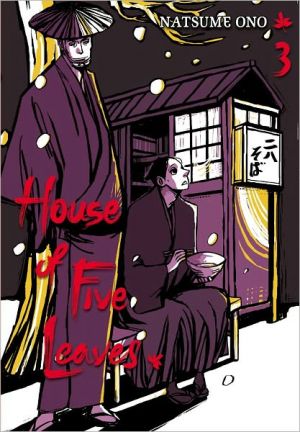 House of Five Leaves Volume 3 cover image is courtesy of barnesandnoble.com.
Rated "T+" for "Older Teen"
Although he is loyal and a skilled swordsman, Masanosuke "Masa" Akitsu cannot keep a job and is thus, a ronin (an unemployed samurai). His shy, timid nature causes every lord who employs him to quickly dismiss him. Hungry and desperate for money to send home to his family, Akitsu agrees to become a yojimbo (bodyguard) for Yaichi, the charismatic leader of the kidnapping ring, "Five Leaves."
In House of Five Leaves, Vol. 3, Matsukichi, who is Five Leaves' spy and Yaichi's right hand man, suddenly disappears. Masa is determined to find him and befriends Yagi, a sly samurai, who helps him in his bid to find Matsukichi. Yaichi, however, does not like Yagi being so close to Masa.
Next, Masanosuke's sister, Sachi, comes for a visit, but she is really running away from home to avoid an arranged marriage. What will Masa and Five Leaves do with her? Later, Yagi offers Masa secrets into Yaichi's past, just as a dangerous new group begins to make its presence known.
THE LOWDOWN: The heart of House of Five Leaves is character drama. Mystery, intrigue, and scheming surround that heart to give the readers an engaging serial drama. What is surprising is how smooth everything seems, but the laid back pace and mood is just right for this samurai drama's smoky aroma. Every character is interesting, and creator Natsume Ono, who is good with characters, makes it hard to pick a favorite. You want to get into each one.
POSSIBLE AUDIENCE: Readers who like all things samurai, but also want quality character drama will like House of Five Leaves.
A-
Last Updated: August 31, 2023 - 08:12