House of Five Leaves: Volume 2
By Leroy Douresseaux
December 16, 2010 - 13:39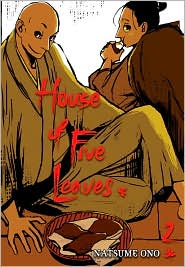 House of Five Leaves Volume 2 cover image is courtesy of barnesandnoble.com.
Rated "T+" for "Older Teen"
Masanosuke Akitsu is a ronin (masterless samurai) because he cannot keep a job, even though he is skilled and loyal. It is his shy, timid nature that causes every lord who employs him to quickly dismiss him. Hungry and desperate for money to send home to his family, Akitsu agrees to become a yojimbo (bodyguard) for Yaichi, the charismatic leader of a kidnapping ring calling itself "Five Leaves."
As House of Five Leaves, Vol. 2 opens, Masanosuke's lingering illness becomes worse, so at the behest of his comrades, he moves to the country estate of Goinkyo, an associate of the Five Leaves. There, he not only begins to learn more about the members of Five Leaves, he also sees their dark pasts return to haunt them. Still, the more Masanosuke learns, the more the mystery deepens for him.
THE LOWDOWN: It is a pity that readers often judge comics on the beginning of the story – first impressions and all that. Sometimes, it takes several chapters before a series really reveals its heart. The first volume of House of Five Leaves was interesting, but seemed more quirky than engaging. Vol. 2, however, is way more interesting than quirky. Far from being a melodramatic, martial arts, samurai drama, House of Five Leaves is a fiery character drama full of mystery and intrigue. I think anyone who reads it will always be looking forward to the next chapter or volume.
POSSIBLE AUDIENCE: Readers who like all things samurai will like House of Five Leaves.
A-
Last Updated: August 31, 2023 - 08:12