House of Five Leaves
By Leroy Douresseaux
September 18, 2010 - 15:06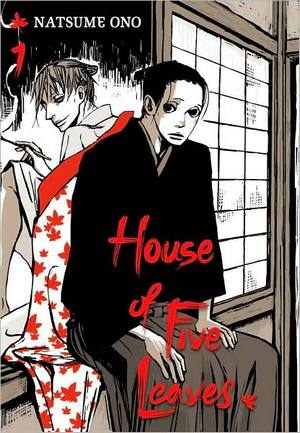 House of Leaves Volume 1 cover image is courtesy of barnesandnoble.com.
Rated "T+" for "Older Teen"
Masanosuke Akitsu is a ronin (masterless samurai), who is skilled and loyal, but cannot keep a job. His shy, timid nature causes every lord who employs him to quickly dismiss him. Hungry and desperate for money to send home to his family, Akitsu agrees to become a yojimbo (bodyguard) for Yaichi, the charismatic leader of a band of outlaws calling itself, "Five Leaves."
In House of Five Leaves, Vol. 1, Akitsu suddenly realizes that he has attached himself to outlaws who specialize in kidnapping for ransom. Yaichi may come across as a "Robin Hood" type, but when he kidnaps a child to whom Akitsu is attached, the ronin's misgivings about his new friends deepen.
THE LOWDOWN: Like Natsume Ono's previous work, not simple and Ristorante Paradiso, House of Five Leaves is a character drama. Languid and smooth, House of Five Leaves gives the reader plenty of time to ruminate on the characters as Ono reveals them in tiny details dotted here and there in the text. This certainly is a samurai drama, but not in the martial arts way readers may expect. Still, it is a good read.
POSSIBLE AUDIENCE: Readers who like all manga samurai will like House of Five Leaves.
B+
Last Updated: August 31, 2023 - 08:12