Comics / Manga / Yaoi Manga
Tatsumi Kaiya's Hot Steamy Glasses
By Leroy Douresseaux
Feb 18, 2009 - 19:11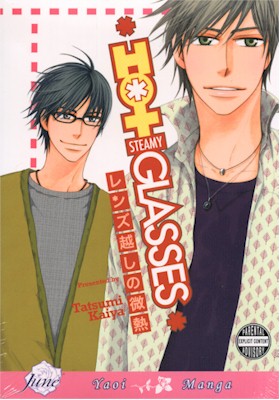 Hot Steamy Glasses cover image is courtesy of Anime Castle Books.
Rated "M" for "Mature Audiences 18+"
In the yaoi manga, Hot Steamy Glasses, by manga-ka Tatsumi Kaiya, longtime friends learn that getting past their differences is indeed the first step towards domestic bliss.
Twenty-nine-year-old Takeo Aoba is the president of his own successful business, an IT company called Blue Leaf Co. Ltd. He's considered an eligible bachelor, so why hasn't a young woman captured his heart yet? Is it because Takeo is a nerd, or even worse than a nerd (according to some), an otaku? No, it's because ever since junior high school, Takeo has been pining away for his best pal, 29-year-old Fumiaki Suzuki – Takeo's "Fumi-chan."
Fumi-chan is an otaku hater, and he also like girls! Takeo begs Fumi-chan's younger brother, the 21-year-old Shogo, to help him in his quest to capture Fumiaki's heart. Despite their best efforts, Fumi-chan insists that he likes girls and that he and Takeo are only friends. Takeo's new employee, the feisty Reiko Kawahara, thinks that Fumiaki is just being stupid, and she's determined to stick her nose into the situation and make Fumiaki admit that not only does he love Takeo, he's also always loved him.
THE LOWDOWN: The "steamy glasses" in Tatsumi Kaiya's Hot Steamy Glasses references the fact that two of the gay couples featured in this graphic novel have one of the pair who wears eyeglasses. These spectacles, however, don't get steamy right away. This yaoi manga certainly delivers on depictions of explicit sex between male lovers… later, but the romance here is more of the domestic comedy/drama variety. Takeo and Fumi-chan's story is like a pleasant Hollywood "chick flick." Like a date movie, this tale of love has a couple experiencing all those awkward steps towards love, while a small cast of supporting characters eggs them. It's a pleasant, enjoyable read, especially if you can wait for the hot sex, which doesn't come until near the end of the story.
POSSIBLE AUDIENCE: Yaoi fans who enjoy a winsome love story that is more character drama than steamy love story (in spite of the title) will enjoy Hot Steamy Glasses.
B
www.digitalmanga.com
www.emanga.com
Shop for Yaoi Delights.
Last Updated: Jun 26, 2018 - 9:28