Homestuck Book 1: Act 1 & Act 2 comics review

By Leroy Douresseaux
Apr 12, 2018 - 15:30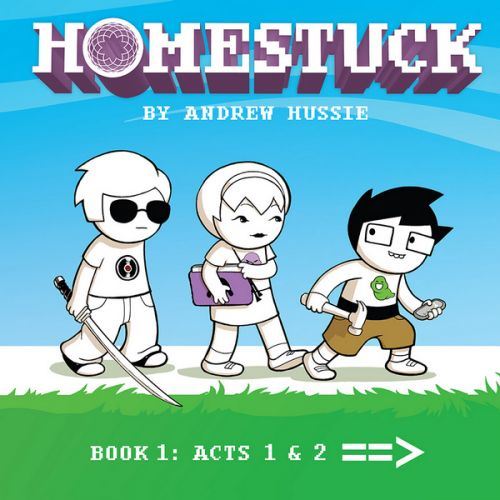 Homestuck Book 1: Act 1 & Act 2 cover image
Homestuck was a webcomic created, written, illustrated, and animated by
Andrew Hussie
. It was published online from 2009 to 2016 for the equivalent of 8000 pages. Considered minimalist and innovative, Homestuck followed a format of a classic role-playing game. In general, however, Homestuck and its ever-expanding story can be difficult to describe.
According to what I have read via the web and press materials, Homestuck was a pop-culture phenomenon with a "legion" of devoted fans from around the world. Hussie even raised over seven-hundred thousand dollars in a crowdfunding campaign. Homestuck apparently takes its inspiration from old-school, role-playing video games. The characters (which are drawn without arms except when they need to use arms) are guided by actual readers suggestions. Hussie moves the story forward through a hybrid of webcomics graphics, chat logs, "Flash" animation, GIFs, instant messaging, music and narration that mimics video games.
VIZ Media is collecting Homestuck in a series of deluxe, full-color hardcover editions. Each hardcover will feature new cover art and also commentary by series creator Andrew Hussie. Future volumes of the series will be published on a quarterly basis.
Homestuck Book 1: Act 1 & Act 2
will be released on Friday, April 13, 2018. This book is rated 'T+' for Older Teens and carries a print manufacturer's suggest retail price (MSRP) of $24.99 U.S. / $33.99 CAN. The book also debuts digitally via viz.com and the VIZ Manga App will also be available via the Nook, Kobo, Kindle, iBooks, comiXology, and Google Play stores.
What is Homestuck about? A young man, perhaps named "J
ohn Egbert
," stands in his bedroom. Today is his 13th birthday,and he is about to embark on an adventure involving birthday cakes, magic chests, hammers, arms (detachable and otherwise), harlequins, imps, eccentric architecture, movable home furnishings, bunnies, and especially a video game. Entitled "
Sburb Logo
," this game will destroy the world! And this is a video game for which Egbert simply must have a beta or test version. Egbert is supposed to receive a "Sburb" beta, so where is it? Does his dad have it? Is it inside a rather large birthday cake?
THE LOWDOWN:
My VIZ Media rep sent me a copy of first release,
Homestuck Book 1: Act 1 & Act 2
. Apparently, Homestuck has a narrative that grows larger over time. To me, I find that the narrative is, overall, mildly interesting, but what does work, at least for me, are the sight gags.
The arm-less Egbert, the appearing and disappearing objects, and the chat logs, to name a few, are funny. I often found myself chuckling. Ghost Busters character Slimer makes frequent appearances, and there are lots of funny bits about various movie stars. Characters Rose and Dave eventually push there way into the narrative and the use of color, splashed about with mild abandon, liven up the strip.
I must say that the original Homestuck webcomics episodes used animation and music, so, in a way, this collection is also a companion piece to the webcomic. I strongly recommend that readers view at least some of the webcomic episodes along with the printed version. I find that I like the series the more I can go back and re-read and also view the "digital" originals. Seeing episodes 715-717 as animation with those prompts adds something to reading the print version. I don't know if it is context or a boost, but there is something added to the print if you can see the web version.
I READS YOU RECOMMENDS:
Fans of Homestuck the webcomic and of unique webcomics will want to try the hardcover
Homestuck
collections.
B+
7 out of 10
Rating: 7 /10
Support this writer on Patreon
Last Updated: Jun 26, 2018 - 9:28