Homefront Advanced Blu-ray and DVD review
By Leroy Douresseaux
March 10, 2014 - 16:33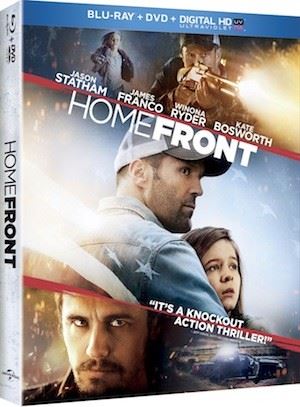 Homefront Blu-ray/DVD combo package image
Homefront is an action-packed thriller starring Jason Statham, James Franco, Winona Ryder, and Kate Bosworth. The film arrives Tuesday, March 11, 2014 on the Blu-ray™ Combo Pack including Blu-ray™, DVD, and Digital HD with Ultraviolet™, which allows movie audiences to watch Homefront anywhere on their favorite devices.
Homefront focuses on a former DEA agent who moves to a small town, where he soon catches the attention of a local drug lord. Homefront is a mean, gritty little bastard of a film. It is a true southern gothic in the tradition of such movies as White Lighting (a Burt Reynolds classic), Deliverance, and Walking Tall.
Widowed ex-solider Phil Broker (Jason Statham) works undercover for the Drug Enforcement Agency (DEA). After an operation goes bad, Broker retires, and he and his 10-year-old daughter, Maddy (Izabela Vidovic), move to the quiet Southern town of Rayville. However, the small town is riddled with drugs and violence, and, after Maddy gets into a fight at her new school, Broker discovers that Rayville is not as idyllic as it seems on the surface. Broker catches the attention of Gator Bodine (James Franco), a local drug lord with big ambitions. Those ambitions cause Gator to go into Broker's past, which brings trouble for everyone.
It is too easy to mock a screenplay written by Sylvester Stallone; after all, he has been writing movie scripts for four decades. His Homefront screenplay is tightly written, perhaps a bit too tightly. The movie runs at about an hour-and-a-half of actual story time, which is too short for the plot and characters. Stallone introduces several characters and establishes them as potentially having a major impact on the story. Many of them, however, end up being used sparingly, especially the teacher Susan Hetch (Rachelle Lefevre), who might have romantic feelings for Broker. Cassie Bodine Klum (Kate Bosworth), as a character connected to both Broker and Bodine, has the most potential to improve the drama in Homefront, but, except for a few scenes, Cassie is underutilized.
What Stallone's script gets right is the relationship between Broker and his daughter, Maddy. The film takes the time to establish how important both characters are to each other. The movie emphasizes two things: as a family that recently underwent loss, Broker and Maddy are in a fragile state and also that external threats are not the only things that can damage the family. Maddy is every bit as stubborn and determined as her father, and her love for him won't deter her from confronting him. So when the bad guys start attacking, the audience will buy into the threat to the family because the film made the bond and relationship between Broker and Maddy seem genuine and honest.
Fear not, Jason Statham fans; our guy gets to kick ass and pop caps. Director Gary Fleder and film editor Padraic McKinley largely eschew CGI god-tech and instead, offer old-fashioned, no-gloss gunfights that will glue your attention to the screen. The Bone-crunching, ball-rupturing, face-smashing fights are short and to the point, and I found myself re-watching them.
Homefront is one of the better Jason Statham vehicles because his character seems more grounded in realism. Phil Broker is both susceptible to being hurt and has something to lose. And because this movie was not a box office success, we likely won't get to see Statham as Broker in another film – a pity.
----------------------
Homefront comes to Blu-ray Tuesday, March 11, 2014. Bonus features include "Deleted Scenes" and "Standoff." Here are some non-exclusive clips from the film:
Keep it Smooth: https://www.youtube.com/watch?v=mrWRt1Hurxw
Wood Burning: https://www.youtube.com/watch?v=tSeDr25Thdc
Gator: https://www.youtube.com/watch?v=SGz9v09rYuk
Standoff: https://www.youtube.com/watch?v=pSX8CzHl3Jc
Rating: B /10
Last Updated: February 5, 2023 - 09:06