Comics / Comic Reviews / More Comics
Hercules: The Knives of Kush #4
By Leroy Douresseaux
November 25, 2009 - 08:55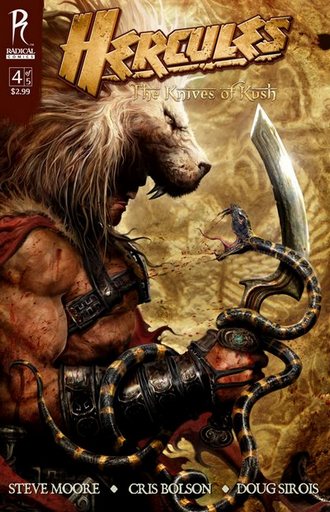 Hercules: The Knives of Kush #4 Clint Langley cover
Hercules: The Knives of Kush is a five-issue miniseries that finds Hercules, the son of Zeus, and his warrior companions caught in the middle of an Egyptian civil war. Pharaoh Seti II is at war with his brother Amenmessu (real life historical figures that lived in the 13th and 12th centuries BC) for control of Egypt. Hercules and his companions are mercenaries in the service of Seti, while Amenmessu has the services of a powerful sorcerer, Khadis, Lord of Lightning.
As Hercules: The Knives of Kush #4 opens, Autolycus and Iolaus, Hercules' companions, are in Thebes and have penetrated Khadis' Knives of Kush cult. The duo also makes a surprising discovery about Khadis. Meanwhile at his capitol at Memphis, Seti prepares his army to march south and meet Amenmessu's forces in battle. Nebenkhemet and his college of priests pray to the god Ptah, the Lord of Eternity, to assist Seti in battle. However, Khadis, in service of Amenmessu, has power that only the son of Zeus may be able to match.
THE LOWDOWN: Writer Steve Moore has converted the demigod of Greek myth, Hercules (Heracles), into a sword and sandal equivalent of the sword and sorcery Conan the Barbarian. For me, reading Hercules: The Knives of Kush felt like going back in time to when I was a kid reading writer Roy Thomas' Conan the Barbarian comic books, and those were highly enjoyable reading experiences. Here, Kush's painted art even recalls the art found in Marvel Comics' Marvel Graphic Novel series and the publisher's Epic Illustrated magazine.
The best that I can say for Hercules: The Knives of Kush #4 is that I want more. I might even slip up and lose my dignity to declare, "AWESOME!" But I'll wait to read more…
POSSIBLE AUDIENCE: Readers who never get enough Conan comics to sate their appetites will like Hercules: The Knives of Kush.
B+
Last Updated: August 31, 2023 - 08:12