Hayate the Combat Butler: Volume 25 manga review
By Leroy Douresseaux
February 14, 2015 - 06:45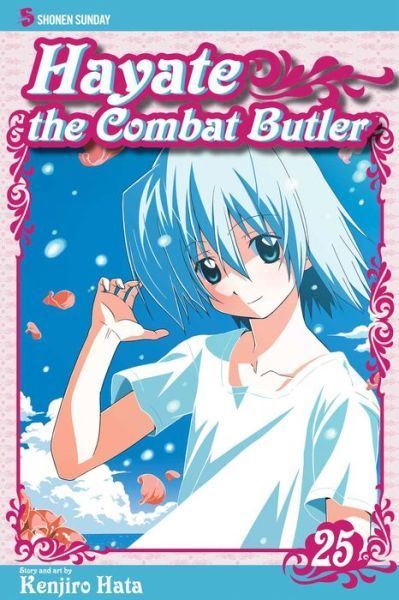 Hayate the Combat Butler Volume 25 cover image is courtesy of barnesandnoble.com.
Follow me on
Twitter
.
Rated "T+" for "Older Teen"
Hayate Ayasaki
had been working to pay off his degenerate parents' gambling debts since he was nine-years-old. Those parents eventually sold their son's organs to the yakuza to cover those debts, just before they disappeared. Hayate worked various part-time jobs to pay off those debts. Then, fate brought Hayate to teenaged heiress,
Nagi Sanzenin
a/k/a "
Ojô-sama
." She is the frequent target of kidnapping plots and of various schemes by people trying to get her money. Hayate becomes Ojô-sama's butler, zealously protecting her, while she falls in love with him.
As
Hayate the Combat Butler

, Vol. 25
opens, Hayate and Nagi and their friends finally leave the Greek Isles where they spent an incredibly eventful Golden Week vacation. Before they leave, however,
Athena Tennos
a/k/a "
Ah-Tan
" must finally settle her affairs with Hayate, and tell him about her encounter with his brother.
Because of something that happened while the gang was in Greece (a long story), Nagi is forced to leave home. Yes, her grandfather,
Mikado Sanzenin
, is throwing his granddaughter out into the streets. Now, Hayate has 20 million yen (about $200,000) to find his charge a new home. No, that's not enough money. Also, learn the story of
Klaus
(Nagi's other butler),
Yukariko
, and
Murasaki Mansion
. Plus, meet the man who tried to sell Hayate's organs.
THE LOWDOWN:
I love the
Hayate the Combat Butler
manga. It took me a while to understand its rhythms, characters, story lines, etc., and also that it parodied manga and anime culture. Once I understood its context, I felt myself surrender to
Hayate the Combat Butler
's many charms, and I felt myself fall into Hayate Ayasaki's capable butler arms...
...So anyway,
Hayate the Combat Butler Volume 25
prepares us for a new chapter in the lives of a spoiled rich girl and her loyal, debtor butler. This series is truly unique, and while that does not always work in comedy, it does with this manga.
POSSIBLE AUDIENCE:
Readers looking for comedy about manga and anime can find laughs in the Shonen Sunday manga,
Hayate the Combat Butler
.
Rating: A /10
Last Updated: January 24, 2022 - 11:00