Hayate the Combat Butler: Volume 23 manga review
By Leroy Douresseaux
February 13, 2014 - 17:43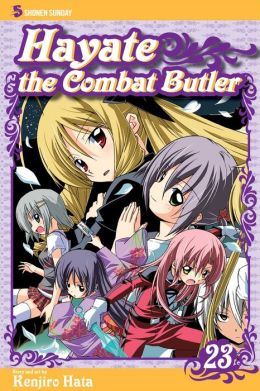 Hayate the Combat Butler Volume 23 cover image is courtesy of barnesandnoble.com.
Rated "T+" for "Older Teen"
Hayate Ayasaki's degenerate parents sold their son's organs to the yakuza to cover their gambling debts, just before they disappeared. Hayate worked various part-time jobs to pay off those debts. Then, fate brings Hayate to teenaged heiress, Nagi Sanzenin a/k/a "Ojô-sama." She is the frequent target of kidnapping plots and various schemes by people trying to get her money. Hayate becomes Ojô-sama's butler, zealously protecting her, while she falls in love with him.
As Hayate the Combat Butler, Vol. 23 opens, Hayate and Nagi and their friends: Hinagiku, Isumi, Ayumu, Segawa, and Nishizawa continue their Golden Week vacation in the Greek Isles. For Hayate, the vacation gives him an opportunity to reunite with Athena Tennos a/k/a "Ah-Tan," a childhood friend. He reveals his love for Ah-Tan to Hinagiku, who is actually in love him.
Hayate finally gets a chance to reunite with Athena at her estate, but standing in the way is her combat butler, Makina, and he can kick ass. Hayate finally enters Athena's mansion, but there is more fighting to do. Hayate will have to make some tough choices regarding women and a giant skeleton hand.
THE LOWDOWN: It took a while, but over the last year, I have become a fan of the Hayate the Combat Butler manga. Created by Kenjiro Hata, Hayate the Combat Butler spoofs, mocks, and also gently makes fun of the conventions of anime and manga. Everything in the otaku wheelhouse is up for some "joshing."
I consider this latest graphic novel, Hayate the Combat Butler Volume 23, to be a reward for all my reading efforts. Strictly in the context of the story, Hata summarizes Hayate's relationships with Nagi Sanzenin and Athena Tennos and how these relationships work. There are responsibilities and consequences and ties-that-bind to the past. This series that doesn't take itself seriously is seriously good.
POSSIBLE AUDIENCE: Readers looking for comedy about manga and anime can find laughs in the Shonen Sunday manga, Hayate the Combat Butler.
Rating: A /10
Last Updated: January 24, 2022 - 11:00