Hayate the Combat Butler: Volume 22 manga review
By Leroy Douresseaux
September 14, 2013 - 16:58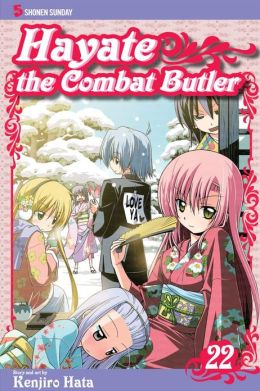 Hayate the Combat Butler Volume 22 cover image is courtesy of barnesandnoble.comm.
Rated "T+" for "Older Teen"
Hayate Ayasaki works various part-time jobs to pay off his degenerate parents' gambling debts. Still, they sell their son's organs to the yakuza to cover those debts, just before disappearing. Fate brings Hayate to teenaged heiress, Nagi Sanzenin AKA "Ojô-sama." She is the frequent target of kidnapping plots and various schemes by people trying to get her money. Hayate becomes Ojô-sama's butler, zealously protecting her, while she falls in love with him.
As Hayate the Combat Butler, Vol. 22 opens, Hayate and Nagi and their friends: Hinagiku, Izumi, Ayumu, Segawa, and Nishizawa continue their Golden Week vacation in the Greek Isles. Hayate uses Zura-usa, which are cloth rabbit ears, in a bid to find the pelican that stole Nagi's hat. Meanwhile, back in Japan, Kyonosuke takes Yukiji on a pretend-trip to Italy in order to romance her.
Hayate's reunion with Athena Tennos hits a complication. Hinagiku has a dinner date with Hayate. Will she finally be able to tell Hayate that she loves him? And how will he respond to her when another young lady is on his mind?
THE LOWDOWN: My evolution as a fan of the Hayate the Combat Butler manga continues. I find myself enjoying the series more with each volume. As I've written in previous reviews, Hayate the Combat Butler creator Kenjiro Hata does his best storytelling when he focuses on the relationships between the characters.
Hayate the Combat Butler Volume 22 presents the best of that with the Hayate, Athena, Hinagiku sort-of-love triangle. It is funny how sensitive and poignant that this manga, which is funny about manga and anime, can be. The best thing that I can say about Vol. 22 is that I can't wait for Vol. 23.
POSSIBLE AUDIENCE: Readers looking for comedy about manga and anime can find laughs in the Shonen Sunday manga, Hayate the Combat Butler.
Rating: A- /10
Last Updated: August 31, 2023 - 08:12