Hayate the Combat Butler: Volume 14
By Leroy Douresseaux
April 18, 2010 - 12:43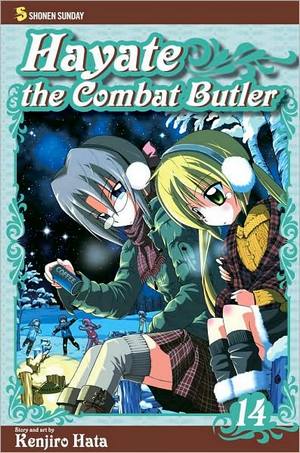 Hayate the Combat Butler Volume 14 cover image is courtesy of barnesandnoble.com.
Rated "T+" for "Older Teen"
Since the tender age of nine, Hayate Ayasaki has worked various part-time jobs to pay off the gambling debts of his degenerate parents, who sold off their son's organs to pay their debts before disappearing. Fate brings Hayate to teenaged heiress, Nagi Sanzenin. Nagi, called "Ojô-sama," is also frequently the target of kidnapping plots (including one by Hayate) and various schemes by people trying to get her money. Hayate becomes Ojô-sama's butler, zealously protecting her, while she falls in love with him.
Hayate the Combat Butler, Vol. 14, opens with the big birthday bash for Sakuya Aizawa, Nagi's cousin. Speaking of the pampered heiress, Nagi has a job, but it has left her so tired that she might not be able to attend the party. Later, Saki Kijima declares her love for Hayate to Nagi. Back at school, Hayate, Nagi, and their classmates discover that their first field trip is to go hiking on Mt. Takao, much to their chagrin, but they don't know the half of it. Wait until they see what's waiting for them.
THE LOWDOWN: Receiving review copies of Hayate the Combat Butler used to make me cringe; then, I read Vol. 11 and got a better feel for the series' slapstick humor and its parody and referencing of anime, other manga, and Japanese pop culture. This volume mixes broad comedy with ensemble comedy, but the latter will require readers to be familiar with the series' various plot lines and character relationships. Still, it would be worth the effort to get to know them because the characters are worth knowing. Plus, the field trip chapters are fun.
POSSIBLE AUDIENCE: Readers looking for a manga series with a big cast will like Hayate the Combat Butler.
B+
Last Updated: August 31, 2023 - 08:12